SUPPORTS
Supports in aluminium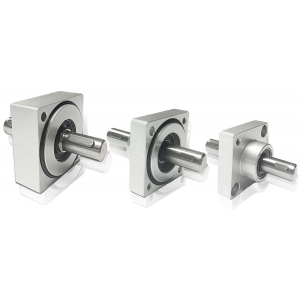 Support units (with square flange) with o.ring, and ball-bearings.

• Available shafts Ø6, Ø8, Ø10, Ø14, Ø20.
• On request threaded bores or drillbores for screws.
• They can be used severally on screws, female screws, shafts or can be combined with our flexible shafts, and our position indicators type "OP".
• Particularly the combination with flexible shafts an position indicators offers a simple and complete solution for handling and display of motion
| | | |
| --- | --- | --- |
| S2 = albero Ø6 | S4 = albero Ø8 | S5 = albero Ø10 |
| | | |

| | |
| --- | --- |
| S6 = albero Ø14 | S8 = albero Ø20 |
| | |

 
DIMENSIONS TABLE

VERSION

WHEELBASE

FLANGE DIMENSION

SHAFT

CENTERING

CENTERING

SPLINE

 
 A
B 
Ø C 
 Ø D
Ø E 
F 
S2 

20

7

6

14

14

 =

S4

28 

11 

8 

22 

23,5 

= 

S5

40 

15 

10 

24 

33 

3 

S6 

56 

22 

14 

40 

50 

5 

S8 

70 

27 

20 

60 

60 

6 
| | | | | | | |
| --- | --- | --- | --- | --- | --- | --- |
| TOTAL LG  | SHAFT LG | CENTERING LG | CENTERING LG | BORE | EMBEDDING | BORE |
| G  | H  | I  | L  | M1  |   |  M2 |
|  35 | 12 | 4,5 |  1,5 | ø3,2 (xM3) |  ø5,5x3,5 | M3 |
| 47,5  | 16  | 13  | 2  | ø3,2 (xM3)  |  ø5,5x3,5 | M3x8  |
| 69,5 | 24  | 11,5  | 10  | ø4,2 (xM4)  |  ø7,5x4,5 | M4  |
| 86,5 | 30  | 22  | 2  | ø5,2 (xM5)  |  ø8,5x5,5 | M5x12  |
| 111 | 40  | 25  | 2  | ø8,2 (xM8) |  ø13,9 | M8x15  |
---
Richiedi l'accesso