Bushes for OP3 - OP6 - OP7 - OP5 - OP10 - OP12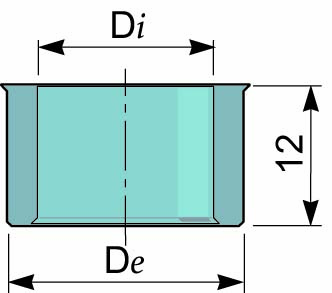 De (Ø hollow shaft)
Di (Ø reductions)
14

6

8

10

12

 

 

 

20

10

12

14

15

15

17

18
De (Ø hollow shaft)   
Di (Ø reductions) 
25

20

22

30
25

 

35
32

 
• 4 digits counter (standard red digit indicates decimals; on request 2 red digits for hundredths or 4 black digits for mm). Reading until  9999.Digit height 5 mm
• Shock-proof self-extinguishing technopolymer. Protection IP64. Max. temperature 80°C.
• Reading with inclined 18° or frontal view.
• Standard shaft bore: ø14H7; other bores, smaller than 14 with reducing bush.
➜ for more complete information, see sec. "Hollow shaft position indicators ..." in the drop-down menu on the left.
---
Richiedi l'accesso