OP3
Position indicator with hollow shaft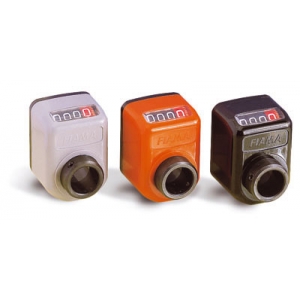 • 4 digits counter (standard red digit indicates decimals; on request 2 red digits for hundredths or 4 black digits for mm). Reading until  9999.Digit height 5 mm
• Shock-proof self-extinguishing technopolymer. Protection IP64. Max. temperature 80°C.
• Reading with inclined 18° or frontal view.
• Standard shaft bore: ø14H7; other bores, smaller than 14 with reducing bush.
On request: 
• Special ratios and measures in Inches.
•  Lock pin "P6" ø6 mm or "c" ø9/10,5.
• Model "IN" with metallic parts in stainless steel.
• Colours: orange RAL 2004, black RAL 9005, grey RAL7004.
• Combinable tools: flanged gearbox: RINV-OP64 (see from p. 26).
☛ Available attachments: shaft block flange, spacer flange, movement knob, handle, handwheel.
1. Hollow shaft Ø14
2. Fixing screw
3. Lock pin
4. 2 Ø2,5x5 fixing holes
5. Dust seal
6. Lock pin ø 9/10,5
7. Lock pin Ø 6
            MOUNTING POSITION   

              

  

VIEW «A» 


for horizontal shaft tilted, top view 

VIEW «B» 


for vertical shaft, side view

 
VIEW «C» 


for horizontal shaft, low front view

VIEW «D» 


for horizontal shaft, top front view



 

Introduce the indicator through the hollow shaft and set the lock pin into the arranged hole. Set the instrument on the inner (zero) value and block the fixing screw.
DISPLAY

for decimal indication (standard)

for hundredths indication (2RR)

for millimeters indication (4RN)
DIRECTION OF ROTATION
DX

 increasing values with clockwise rotation, decreasing values with anti-clockwise rotation
SX
increasing values with anti-clockwise rotation, decreasing values withclockwise rotation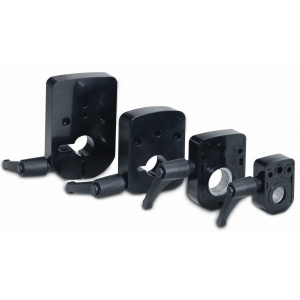 With the shaft block flange on the OP2, OP3, OP6, OP7, OP5, OP9 indicator as a compact unity, we obtain a safe blocking of the drive shaft.
Handle in position "a" or "b".
Block component in anodized aluminium.
▶ Available stainless steel flange in model FL-B OP3, bore ø14.


FLB-OP2

FLB-OP3

FLB-OP6

FLB-OP7

FLB-OP5

FLB-OP9

bore

*

ø 8 
ø 14
ø 14
 ø 14
 ø 20
 ø 20
ø 10 
ø 10 
ø 20
 ø 20

 

 ø 25
ø 12 

 

ø 25 
 ø 25 
 

 

*

 other bores with reducing bushes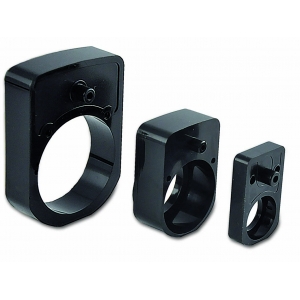 Flange in shock-proof technopolymer.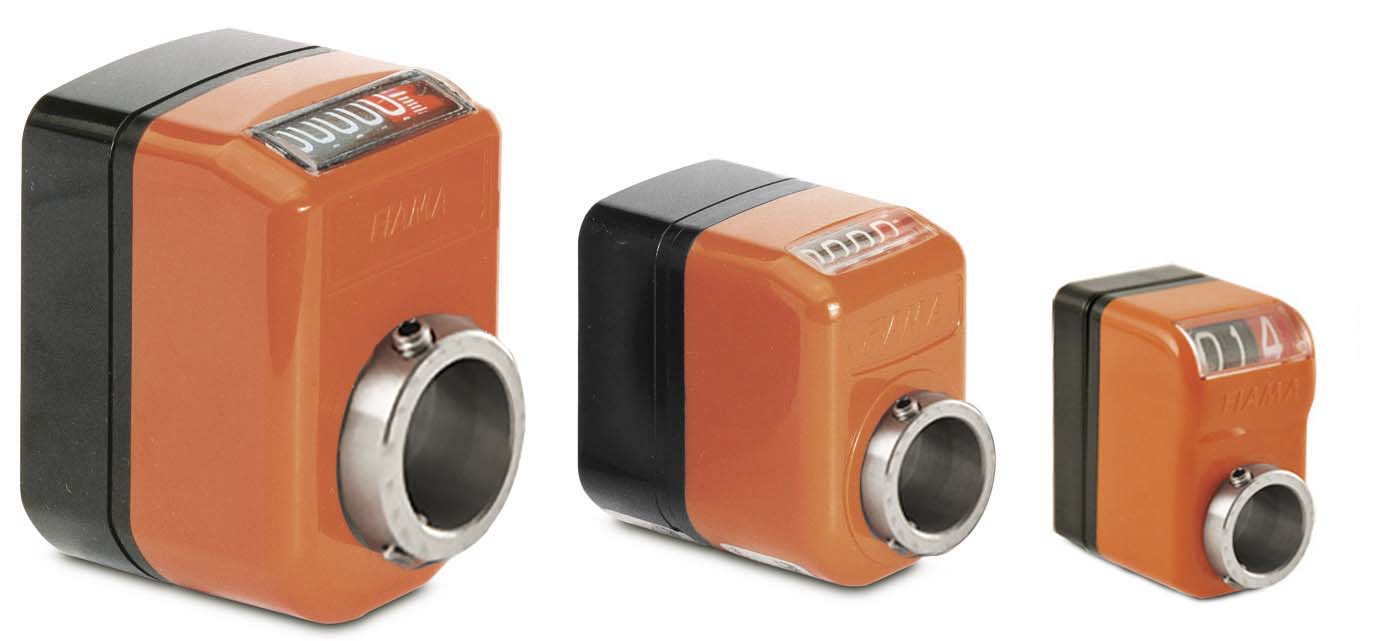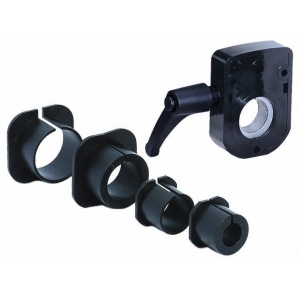 Reducing bushes for shaft block flange (technopolymer).

Technopolymer bushes.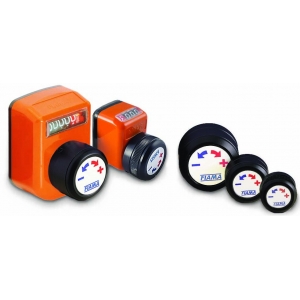 The motion-knob is directly assembled on the shaft of the indicators OP2, OP3, OP6, OP6F25, OP6, OP6F25.
On request stickers (neutral or with Fiama logo), which on the motion-knob' s front shows the increase or decrease of measure wise.
➜ Material: anodized aluminium.

Thermoplastic material, steel bush.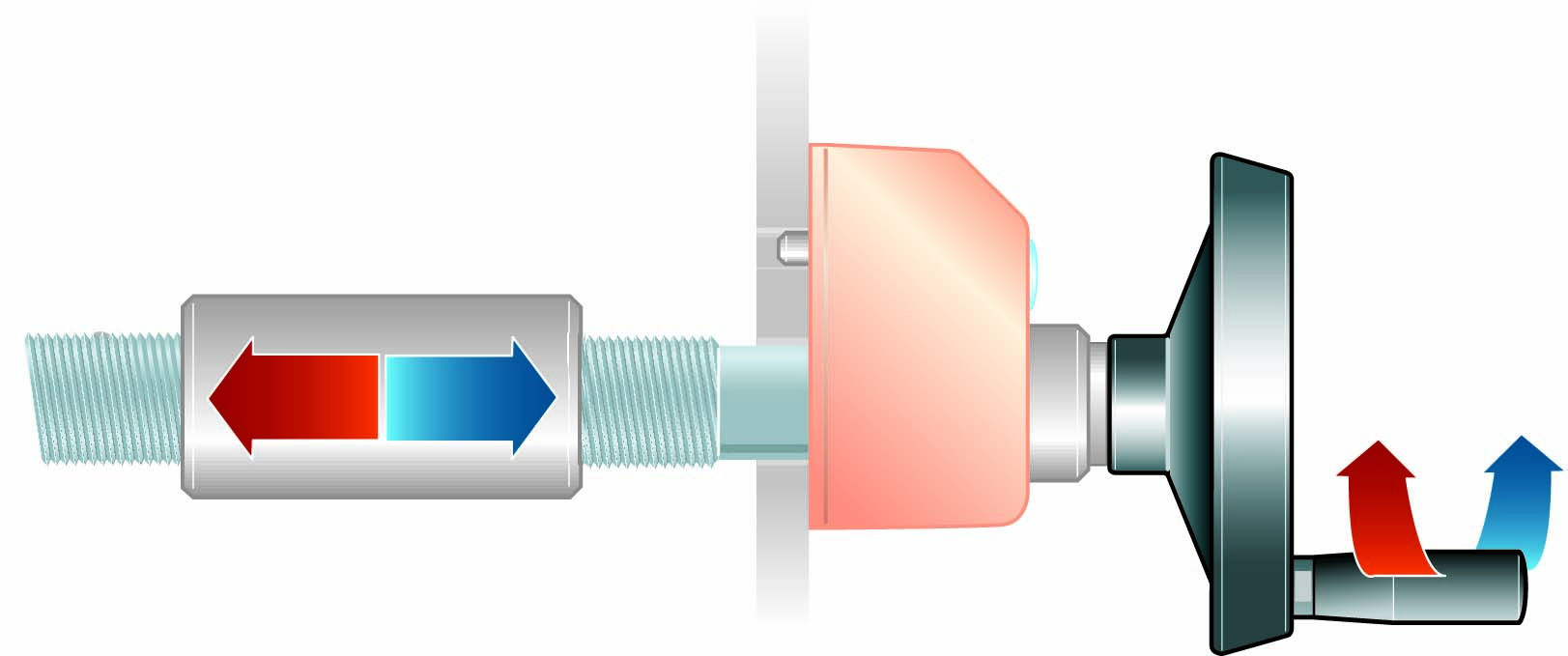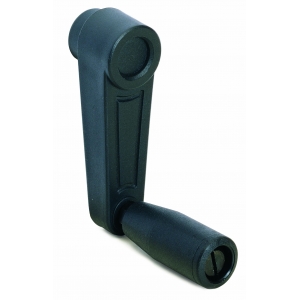 Thermoplastic material, steel bush.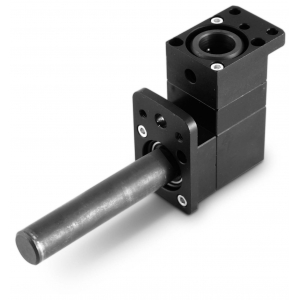 The RINV-OP64 is a flanged angular transmission that, combined with a position indicator type "OP", allows to carry out a visualized adjustment, angular or linear, even if the shaft is in an uncomfortable position.
• Several visualizations and connections possibilities.
• Available with reduction ratios : 1:1 - 1:2. 
• Maximum output torque 3Nm. 
• Aluminium case, anodised. Steel shafts. Steel bevel gears, case-hardened. 
• Minimum angular backlash, minimum axial backlash. 
• Movements on ball-bearings, water-proof.
• Radial load 15 kg - axial load 1,5 kg
• Weigth gr. 300.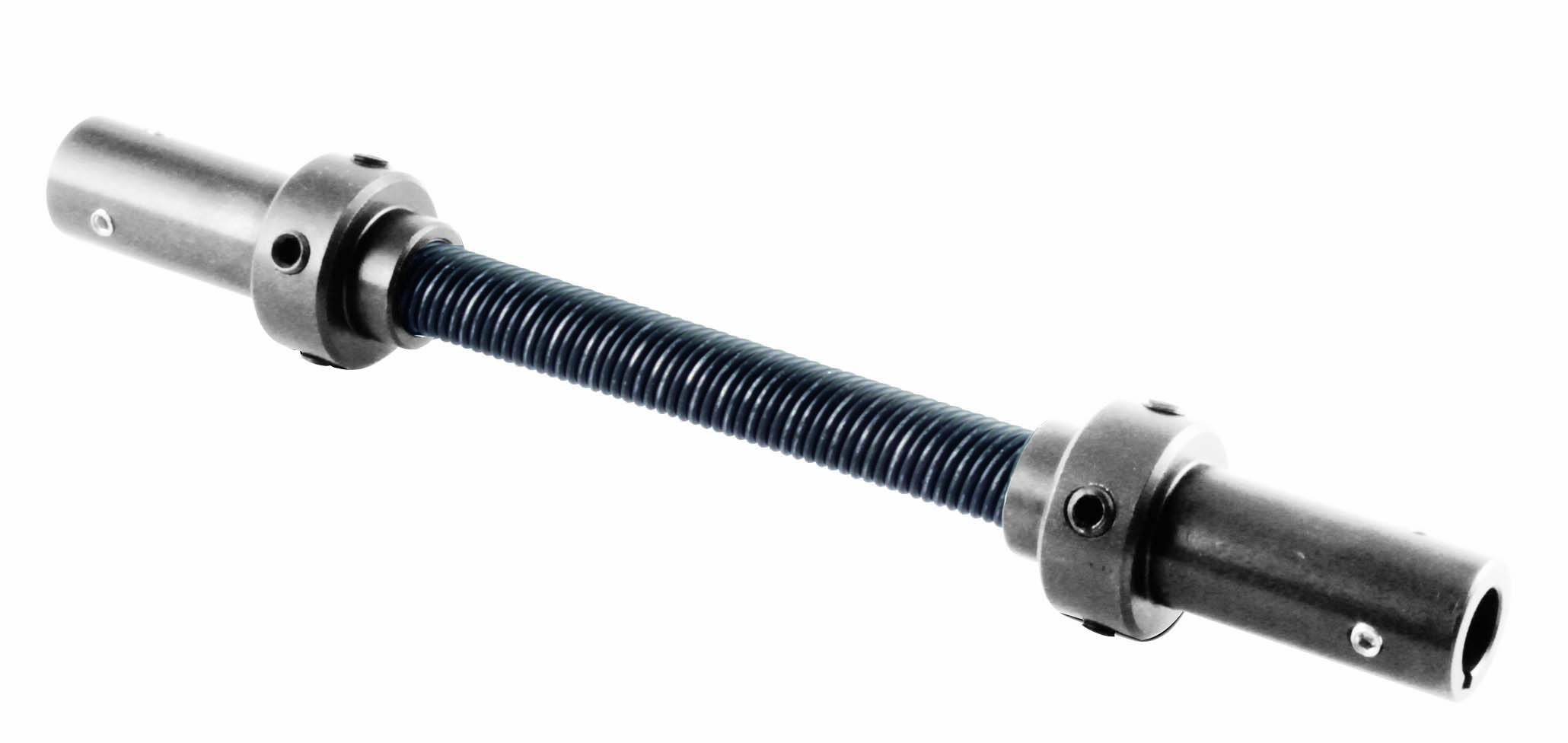 FIAMA flexible shafts are mechanical devices that are used to transfer, with the highest precision, a rotary movement between two non-aligned shafts. Installation is extremely simple by connecting the two terminals (various types are available) without the need for other supports.
Terminals made of stainless steel AISI 303. 
☛ Protective cover made of "Rilsan" for lengths over 400mm.
• Limited dimensions, weight, inertia 
• Robust and highly reliable, not subject to wear and maintenance 
• Excellent compensation of misalignments without free play 
• Compact space requirements, max recommended length 400mm
• Same rotation speed of both shafts, silent operation, dampening of vibrations and shocks.
The limited cost and easy installation allow various solutions, even in heavy-duty applications such as:machine tools, equipment automation, automatic machines, robots, etc.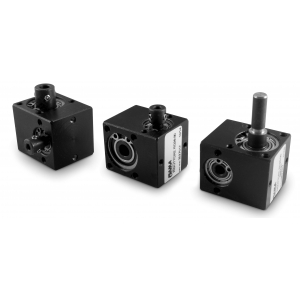 Highly compact reducer for various industrial applications, in particular for automation and robotics; applicable also to motors.
• Housing made of anodized aluminium, shafts made of PR80 steel with surface hardening treatment (high wear and fatigue resistance plus friction reduction and significant increase in corrosion resistance).
• Standard transmission ratios:
   1:1 - 1:2 - 1:3 - 1:4 - 1:5 - 1:7,5 - 1:10 - 1:12,5 - 1:15 - 1:25 - 1:30
• Several mounting options with protruding / hollow input and output shafts
• "FL-U" universal flange for direct connection to machine and motors
• Output torque: 3 Nm

Available versions (see "General technical data"):
- RD26 Gear reducer
- RD26F for threaded shaft (shaft not supplied)
- RD26S with magnetic sensor
- RD26M with permanent magnet motor 
- RD26MS with permanent magnet motor and magnetic sensor
- RD26MR with gearmotor
- RD26MRS with gearmotor and magnetic sensor 
Compact reducer, high-performance, suitable for various industrial applications that require high yields.
In particular for automation and robotics, applicable also to motors.
• Housing made of anodized aluminium
• Shafts made of PR80 steel with Pronox surface hardening treatment, high wear and fatigue resistance plus friction reduction and significant increase in corrosion resistance
• Standard transmission ratios:
   1:1 - 1:2,5 - 1:5 - 1:7,5 - 1:10 - 1:15 - 1:25 - 1:30 
• Several mounting options with protruding / hollow input and output shafts
• Maintenance-free
• Output torque: 10Nm



Compact reducer, high-performance, suitable for various industrial applications that require high yields.
In particular for automation and robotics, applicable also to motors. 
• Housing made of anodized aluminium 
• Shafts made of PR80 steel with Pronox surface hardening treatment, high wear and fatigue resistance plus friction reduction and significant increase in corrosion resistance 
• Standard transmission ratios:
   1:1 - 1:2 - 1:4 - 1:7,5 - 1:10 - 1:15 - 1:20 - 1:30 - 1:40
• Several mounting options with protruding / hollow input and output shafts
• Maintenance-free 
• Output torque: 6 Nm


---
Richiedi l'accesso
PITCH
INDICATION AFTER 1 REV.
MAXIMUM SPEED rpm
mm
mm
inches
mm
inches

0,5

000 5

600

0,5

00 50

200

0,75

000 7(5)

600

1

01 00

100

1

001 0

0 039(37)

100

200

1,25

001 2(5)

800

1,5

001 5

600

1,75

001 7(5)

500

2

002 0

0 078(74)

500

100

2,5

002 5

300

3

003 0

00 11(81)

300

600

4

004 0

00 15(74)

200

500

5

005 0

00 19(68)

200

500

6

006 0

200

7,5

007 5

100

8

008 0

100

10

010 0

00 39(37)

100

200

12

012 0

80