EN90-EN90F
Free-programmable position indicator for handwheels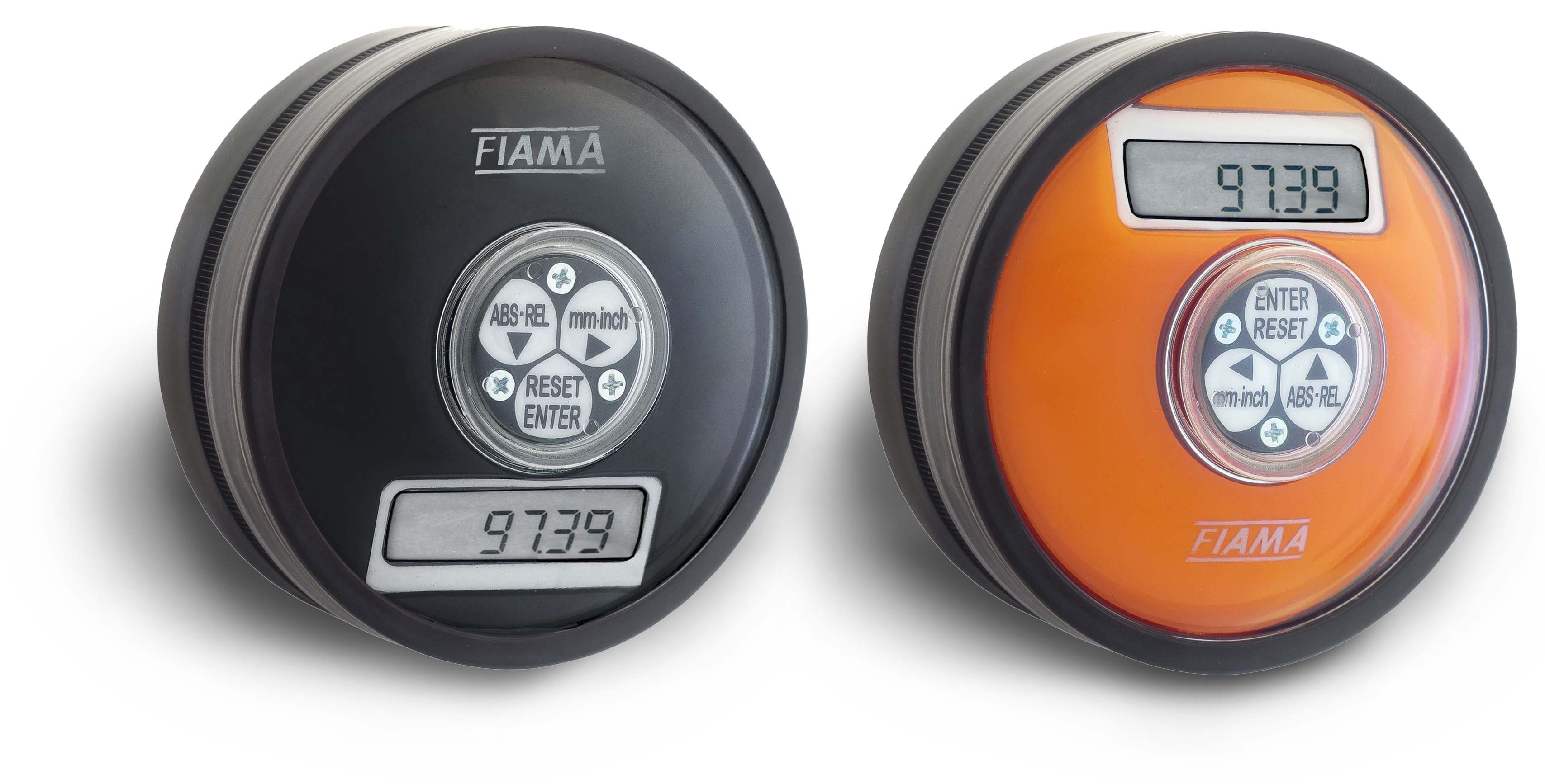 Programmable electronic indicator for the measurement of linear or rotary movements on various types of industrial equipment (packaging, woodworking, metal-working, etc.). 
Main features:
• The display has 5 digits which are 7.5mm high plus negative sign, which can easily be read also at a distance. 
• The instrument and buttons are protected by transparent covers.
• The power is supplied by a ½AA 3.6V battery which lasts approximately 4 years. Replacing of the battery, which is indicated by an icon when necessary, is carried out easily and without loss of the parameters.
Main functions:
■ Directly programmable by the three front keys
■ Setting of the value shown on the display for every turn of the hollow shaft;  measurement direction, number of decimals.
■ Parameters of reset/preset; absolute/relative reference; mm/inches conversion and display in degrees. 3 distinct origins for the correction of by using different tools and the offset function for the compensation of tool wear. 
Available versions:
▶ EN90 is a gravity indicator suitable for installation on horizontal shafts.
☛ Can be supplied with handwheel models P125P, P150P, P175P, P200P or the P100L starwheel.
▶ EN90F is a fixed-reaction indicator suitable for mounting on vertical or inclined shafts.
☛ Can be suupplied with handwheel models P125PF, P150PF, P175PF, P200PF or the P100L starwheel.
FOR HORIZONTAL INSTALLATION
FOR VERTICAL OR INCLINED INSTALLATION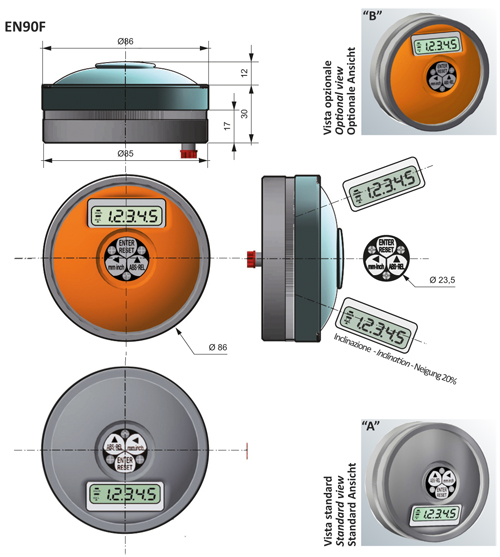 MOUNTING POSITION

ON HORIZONTAL SHAFT «EN90»        


 

UNIQUE VIEW

 

ON VERTICAL AND INCLINED SHAFT«EN90F» 

 

                                                                  

 

VIEW A
 VIEW B 
Accuracy
4000 impulses/revolution
Battery life
4 years of continuous use
Case Plastic with transparent shockproof
polycarbonate cover
Display
LCD digit height 7,5 mm
Electromagnetic compatibility - EMC
2014/30/EU
Keyboard
3 buttons for programming and functions
Max. revolution speed
400 RPM in continuous - 100 RPM for brief periods
Parametri Reset/preset, absolute/incremental
mm/inch/degrees, 3 origin points
Power supply
½ AA 3,6V battery (Lithium-thionyl chloride)
Working temperature
0-50°C
The handles for the P-P and P-F series of handwheels are made in reinforced technoplymer, black colour, solvent-, oil, grease-proof, etc.
MG - Revolving handle
                   

        
Type

Dimensions

 

A

B

C

D

E

MG50
MG70
MG80
M

GR

- Overturnable and revolving handle

                   
Type

Dimensions

 

A

B

B2

C

D

E

MGR70
MGR80
These are motion handwheels used with analogue and analogue-digital indicators with gravity motion (type P-P)or with fixed reaction (type P-F).
The indicator is pressed inside to the handwheel seat, and three hooks secure it.
● Reinforced technopolymer handwheel, black colour, solvent-, oil-, grease-proof. Available with or without handles.
● Hub with aluminium bush with bore ø8 mm. On request bored holes tolerance H8, splines, transversal bores, etc.
● The lock pin is in zinc-plated steel ø4 mm or threaded M4 (on request).
➜ for more complete information, see sec. "Handhweels with indicators..." in the drop-down menu on the left.  
---
Richiedi l'accesso