OP12
Position indicator with hollow shaft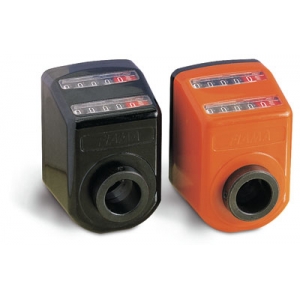 This is a digital indicator with two 5-digit counters to adjust and directly read a motion through a drive shaft rotation.
• Shock-proof self-extinguishing technopolymer. Protection IP64. Max. temperature 80°C.
• Reading with 18° inclination. Two counters with 5 digits (standard red digit indicates decimals; on request 2 red digits for hundredths or 5 black digits). Readings until 99999. Digit height: 5,5 mm.
• Standard shaft hole: 25H7. Smaller holes with reducing bush.
• Lock-pin: centre distance 40 mm (standard) or 30 mm (indicate I30).
• Counters models: increase-increase (DX-DX), decrease-decrease (SX-SX), increase-decrease (DX: referred to the higher counter 1), decrease-increase (SX: referred to the higher counter 1).
• OP12: 2 counters; OP12AZZ: high counter with positioning and zero-setting push-button; OP12R with the function of the two counter' s change lever for measuring, for example, tool' s radius ( pitch) or diameter (double pitch). OP12R with ratio until 1 rev=60.
• Colours: orange RAL 2004, black RAL 9005.


1. Counter 1
2. Counter 2
3. Positioning push-button
4. 2 fori di fissaggio Ø2,5x10
5. Dust seal
6. Lock pin
7. Fixing screw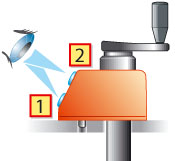 VIEW A                                              VIEW B
ASSEMBLING POSITIONG
The increasing direction of counters 1 and 2 has the point of reference always in counter 1.
For example: SX  shows that counter 1 turns anti-clockwise and counter 2 turns clockwise; DX-DX shows that both counters turns clockwise.
---
ASSEMBLING
Introduce the indicator through the hollow shaft and set the lock pin into the ø6 arranged hole. Set the instrument on the inner (zero) value and block the fixing screw.
---
Richiedi l'accesso
PITCH
INDICATION AFTER 1 REV.
MAXIMUM SPEED rpm
mm
mm
inches
mm
inches

0,5

000 50

150

0,75

000 75

100

1

001 00

60

1

0001 0

0 039(37)

300

150

1,25

0001 2(5)

300

1,5

0001 5

300

1,7(5)

0001 7(5)

300

2

0002 0

0 078(74)

200

100

2,5

0002 5

200

3

0003 0

00 11(81)

200

300

4

0004 0

00 15(74)

150

300

5

0005 0

0019(68)

150

200

6

0006 0

150

7,5

0007 5

100

8

0008 0

100

10

0010 0

00 39(37)

60

150

12

0012 0

60