PR10-PR20
Rotating potentiometer transducers
The PR10, PR20 are potentiometric transducers that turn a rotative motion in a resistance variation: they are made of a precision rotating potentiometerthat, through a suitable transmission system, receives the motion from a drive shaft.
The potentiometers are available with 1, 3, 5, or 10 revolutions with transmission ratios between the drive shaft and the potentiometers. The reducer isprovided with a clutch for the protection of the potentiometer.
The use of these transducers makes necessary to know the number of revolutions that the drive shaft needs to develope the total stroke of the machi-ne: the number of revolutions is given by the transmission ratio of the reducer (gear ratios or reduction) for the potentiometers turns.
Versions: 
• PR20- has a hollow shaft with Ø20 mm bore
• PR10- has a Ø6 x 14mm shaft.
• PR20-I, -V have a built-in analogue interface with power supply 24Vdc: PR20-I with output 4-20mA; PR20-V with ouput 0-10 Vdc.
The combining with a display (V3P, V4P, P3X) makes of this device an economical, simple and effective system for the measuring of shiftings onmachines tool, automatic-, wood-marble-glassworking machinery, etc., with an accuracy not higher than ±0,1 mm.
Shock-proof, self-extinguishing case, solvent-,gasoline-,oil-, grease-proof.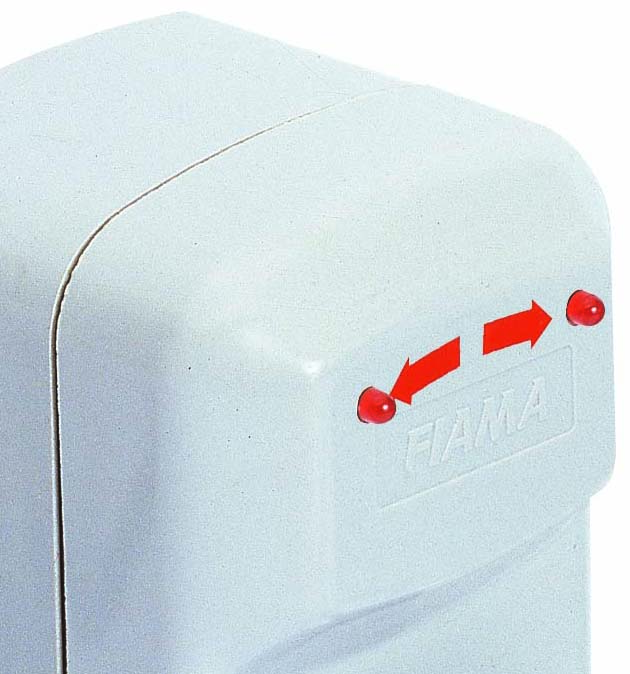 PR10                                              PR20                                            PR20C
with shaft Ø6 x 14 mm         with signal led                               with connector
PR10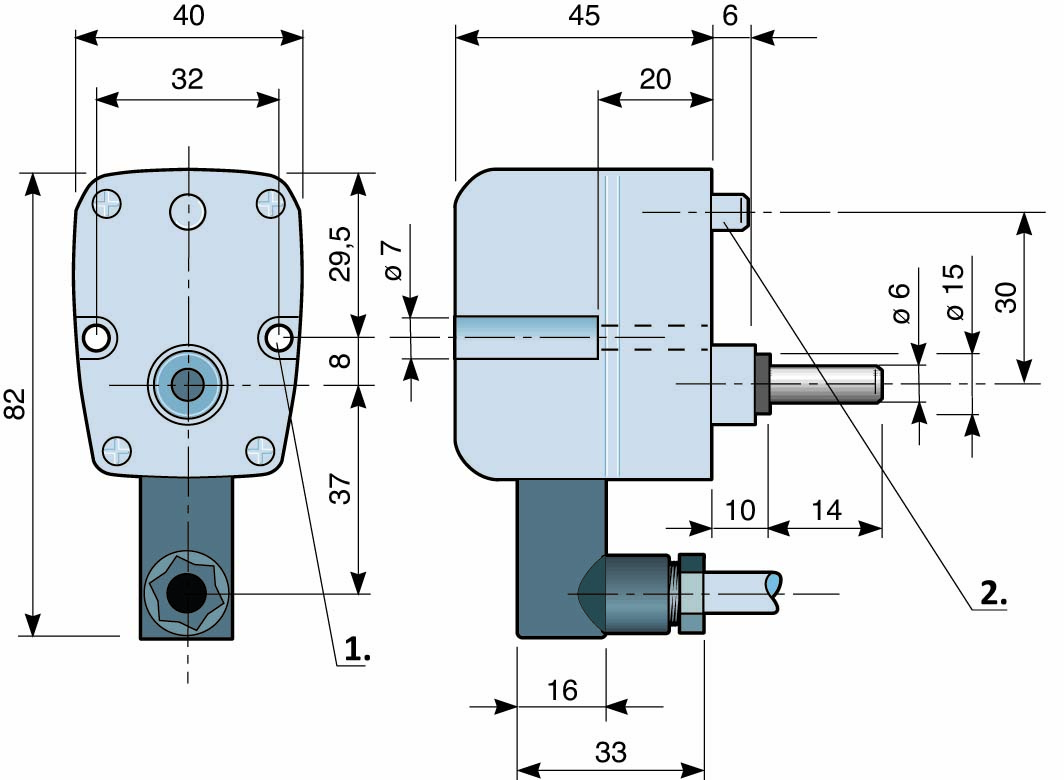 1. Fixing bores
2. Lock-pin
PR20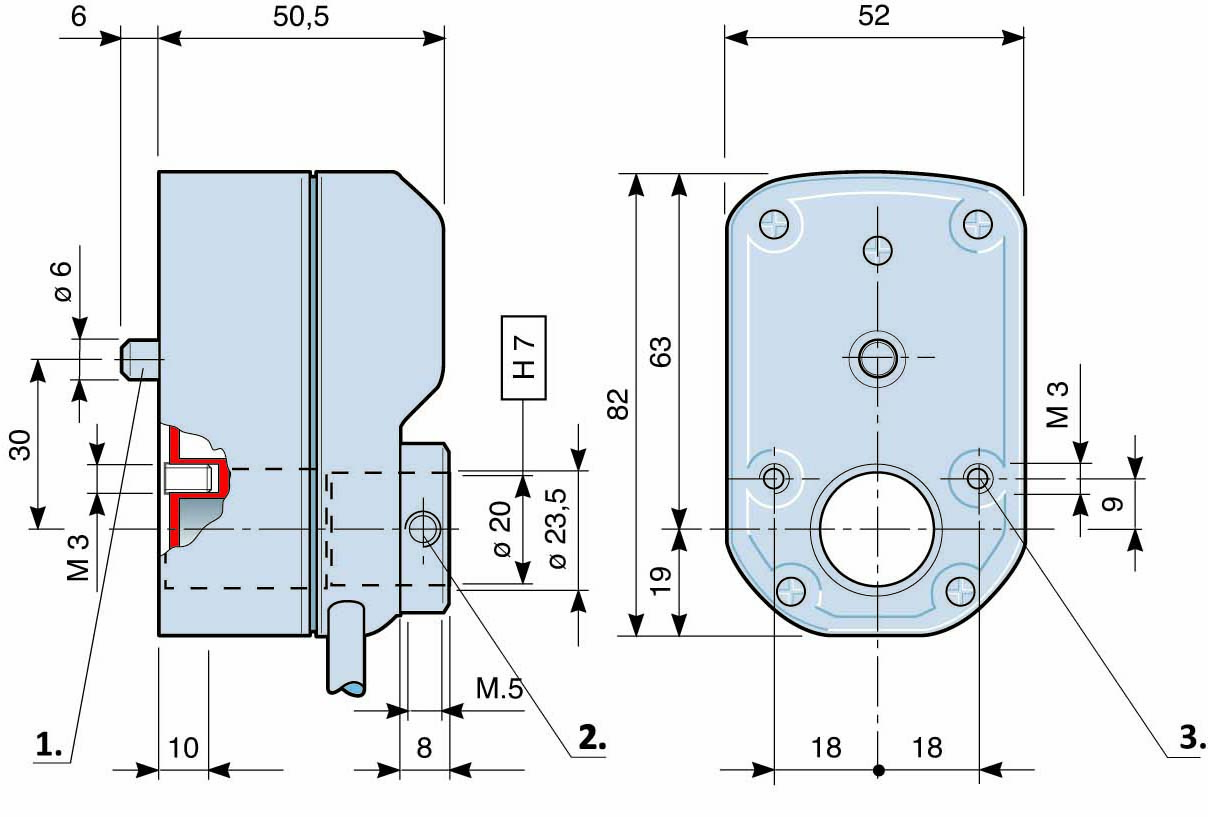 1. Lock-pin
2. Fixing screw 
3. Fixing bores
Electric connection PR10,PR20: cable length 2,5,10 meters
PR20C: 4 poles connector
Maximum rotation 340° ±4°
1080° ±10°
1800° ±10°
3600° ±10°
Maximum rotation speed with ratio 1/1
400 RPM, 1000 RPM for short periods
Potentiometers (rev.)
1, 3, 5, 10
PR10:output shaft
Ø6 x 14 mm
PR20, PR20C: hollow shaft
foro 20 H7
Relative humidity
10 ± 90 %
Transmission ratios PR10
multiplying 1/2, 1/1,25 and reduction 1/1, 1.25/1, 1.33/1, 2.66/1
Transmission ratios PR20
and reduction 1/1,3.3/1,10/1,12/1,18/1,24/1,30/1,54/1,72/1,90/1
Working temperature
-10 ± 70°C
The P Interface turns the signal supplied by a potentiometric transducer into current 0-20 mA, 4-20 mA or voltage 0-10Vdc.
Its typical employment is the current or voltage transmission of signals supplied by a remote potentiometric transducer to remote supervision systems.
Special features of the P interface are its low cost and simple setting: activating two trimmers it's possible to refer the entire output range to the stroke of the poten-tiometer effectivly employed.
The instrument is carried out in a 3-module case for assembling on DIN EN50022 guide.

VERSIONS
VERSIONS

INTP0

Power supply 115Vac

INTP1

Power supply 230Vac

INTP2

Power supply 24Vac

INTP3

Power supply 24Vdc
TECHNICAL FEATURES

Input impedance

1 Mohm

Linearity

endless

Max. load impedance for current output

600 Ohm

Min. load impedance for voltage output

1Kohm

Output resolution

12 Bit

Outputs

0÷10 Vdc; 4÷20mA; 0÷20mA

Potentiometer input

1÷50 Kohm

Power supply

115Vac, 230Vac, 24Vac, 24Vdc 3VA

Relative humidity

10 ÷ 90 %

Working temperature

÷50°C

EMC

2014/30/UE

RoHS

2011/65/UE
DIMENSIONS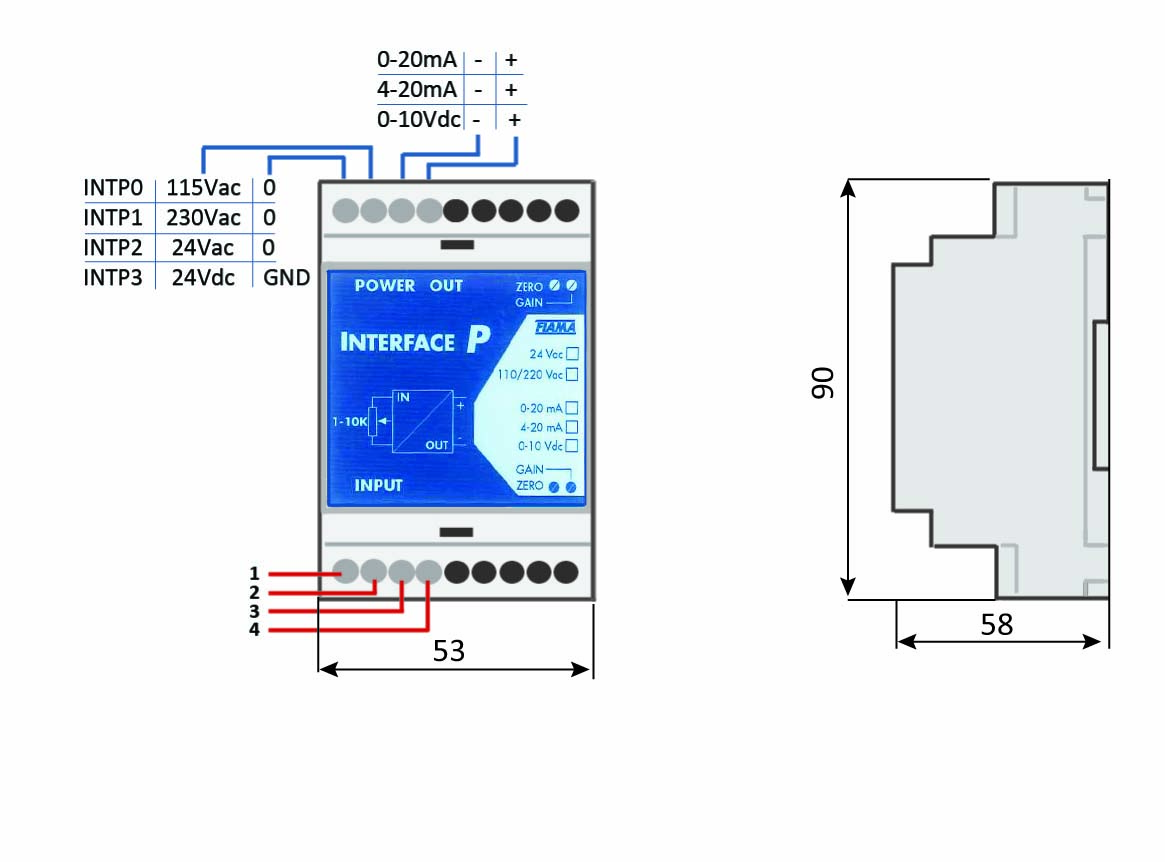 The instruments of the V_P series are multifunction microprocessor display units with input from potentiometric transducer that are particularly indicated for the measurement of linear and angular dimensions. 
• V3P: the measured dimension may be compared with 3 intervention thresholds that may be set for the enabling of as many relays, the status of which is displayed through a led.
Versions: V3P- displayed, V3P-3 displayed with 3 intervention ON/OFF. 
• V4P: the measured value can be compared with 2 or 3 alarms settable for enabling many relays whose status is displayed by LEDs. Two analog outputs, a voltage 0-10V or -10 to +10 V, the other 4 ÷ 20mA 12-bit resolution, and its possible to configure the instrument and check its status via serial interface RS485 with MODBUS RTU protocol. 
➜ for more complete information, see sec. "Displays, impulse counters, positioning units, ..." in the drop-down menu on the left.  
The P_X positioning units serie are programmable microprocessor single-axis positioner with relay or analogue outputs.
• P3X: processes signals provided by potentiometric position transducers linear or rotary. The 16-key keyboard with 6 operation indicators make it simple and easy to use and the setup of the positioner.
➜ for more complete information, see sec. "Displays, impulse counters, positioning units, ..." in the drop-down menu on the left.  
---
Richiedi l'accesso
RATIO CALCULATION
To optimize the accuracy of PR20: choose a gear ratio and a potentiometer which combined give a No. of turns slightly higher than the No. of turns required to cover the stroke.
➤ Available potentiometers with 1 turn (340°), 3 turn (1080°), 5 turn (1800°), 10 turn (3600°), and with a range of ratios (as per scheme in catalogue) in reduction and in multiplier.
Example 1. The transducer has to make 230 complete revolutions to have the complete stroke of potentiometer: POT 10turn ratio 24/1 calculate 24 x 10 = 240turn (its always better have some turn more).
Example 2. We have a screw with a female thread of pitch 4 that has to make a shifting of 550mm (in this case we do not know the total revolution required, but the pitch and distance): 550 : 4 = 137,5 that are number of revolution necessary to make the shifting, so POT 5turn Ratio 30/1 calculate 30 x 5 = 150turn.
Example 3, to calculate degrees. We have to make an angular shifting of 105°: use POT 1 turn (340°), for angular shifting is always better use POT 1turn. Ratio 1/3 multiplier calculate 340 : 3 = 113,5° available.
PR20 - multiplying
PR20 - reducing
PR10 - mulitplying
PR10 - reducing

1/3

1/1

1/2

1/1

1/2

3,3/1

1/1,25

1.25/1

10/1

1.33/1

12/1

2.66/1

18/1

24/1

30/1

54/1

72/1

90/1