EF1000 3000
Wire incremental transducers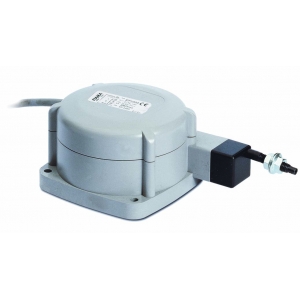 EF1000, EF2000, EF3000 are incremental wire transducers that turn a linear motion into coded digital pulses.
They are made of an incremental optical encoder activated by the stroke of a winding or unwinding stainless steel wire (0,1 mm. the resolution with quadruplied count).
A special feature is their easy assembling.
The linking together to a display or an electronic positioner (for example F1X5, F2X, P1X) supplies a simple, effective system to measure linear or angular motions on machine tools, automatic-,wood-, marble-, glassworking machinery, cylindrical-, hydraulic-, pneumatic stroke, shutiers etc.
These transducers are carried out in self-extinguishing, shock-proof cases which are solvents-, petrol-, greases-, oils- proof.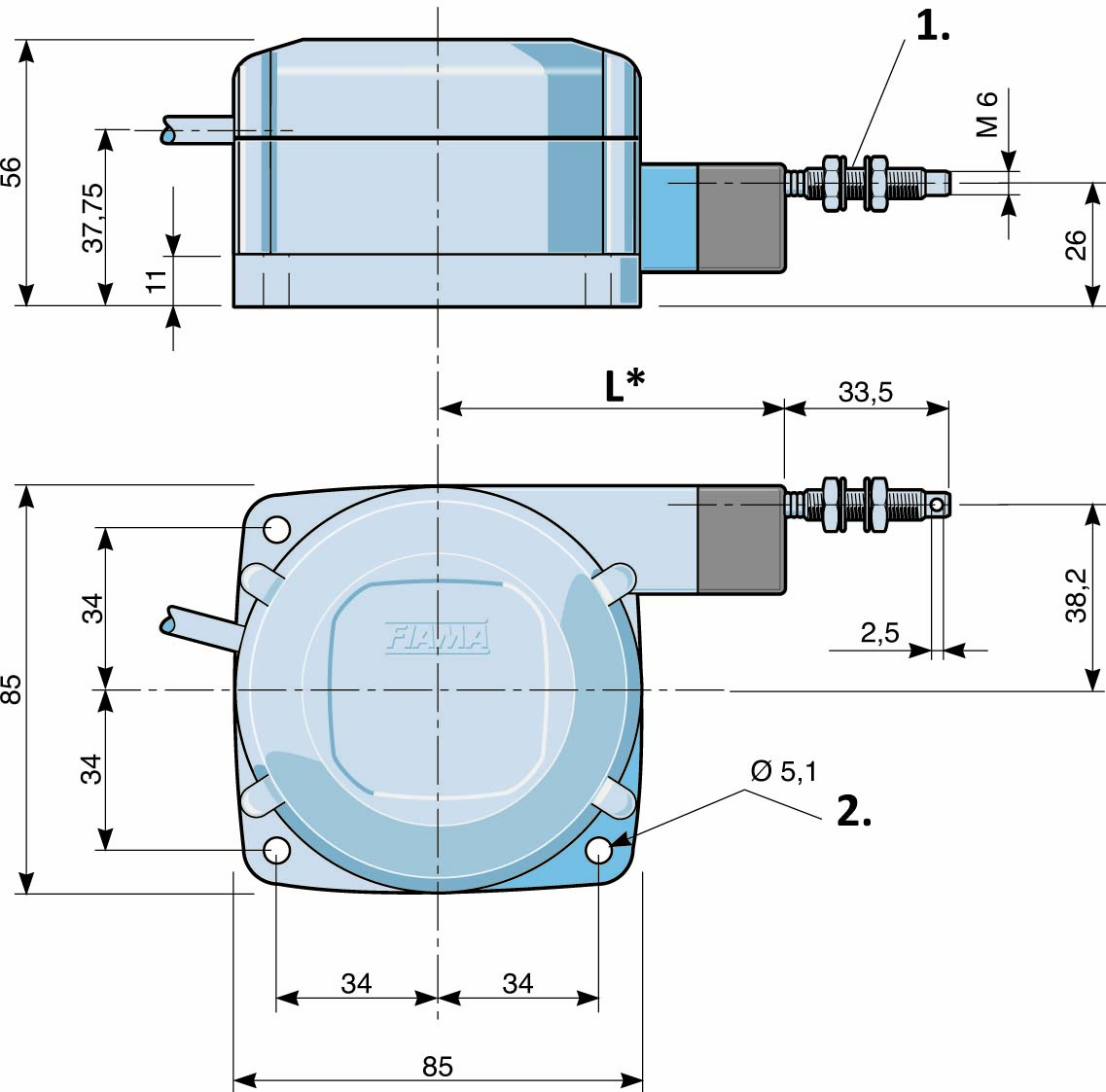 1. Coupling screw
2. Fixing bores 
| | |
| --- | --- |
| Versions | L* |
| EF1000 | 72 |
| EF2000 | 119 |
| EF3000 | 167 |
Accuracy
600 pulses / 240 mm of unwound wire
Electric connection
Cable 2, 5,10 meters
Electromagnetic compatibility - EMC
2014/30/EU
Max. output current
20 mA
Maximal stroke EF1000: 1200 mm
EF2000: 2200 mm
EF3000: 3200 mm
Number of cycles EF1000: 500 000
EF2000: 400 000
EF3000: 300 000
Output signals
Output: Push-Pull; TTL line driver 5 Vdc
Power supply
10 ÷ 30 Vdc, max 60 mA
Relative humidity
10÷90 %
Repeatibility EF1000: ± 0,15 mm
EF2000: ± 0,2 mm
EF3000: ± 0,3 mm
Working temperature
-10÷70 °C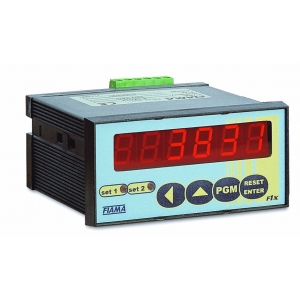 The F_X series are mono-bidirectional display unit with microprocessor with display, particularly suitable for the measurement of linear and angular dimensions with signals supplied by incremental transducers such as encoder and optical lines, magnetic band, proximity sensor.
Other features: input pulses correction factor, enabling of 2 relays, reset/preset of the dimension from keyboard and from terminal box. The F_X are extremely versatile and suitable to many different applications.
The following models have the RS232 or RS485 serial link MODBUS RTU.
• F1X5: mono-bidirectional display unit with microprocessor and six-digit display (reading scale -99999 +999999).
Versions: F1X5- displayed; F1X5-2 with 2 switch relay interventions; F1X5-RS232 or F1X5-RS485 with RS232 or RS485 serial output MODBUS; F1X5-2RS232 or F1X5-2RS485 with 2 relay interventions and RS232 or RS485 serial output. The version F1X5-SSI is used for absolute transducers which use an interface SSI (standard RS422): the system can be configured to accept a gray or binary format with byte numbers that can be selected between 4 and 24.
• F2X: an auxiliary display with two characters enables the guided programming of the display unit.
Versions: F2X- displayed; F2X-2 with 2 switch relay interventions; F2X-4 with 4 relay interventions; F2X-RS232, F2X-RS485 with serial output; F2X-2RS232, F2X-2RS485, with 2 relay interventions and serial output; F2X-T with analogue output; F2X-2T with 2 relay interventions and analogue output.
• A3X: programmable mono-bidirectional multifunction counter with three axes on 6-digit displays, (reading scale -99999 +999999), ideal solution for all the cases in which it is necessary to display the position on machines with three axes (honing machine, milling machine, etc.).
Versions: A3X- displayed, A3X-2 with 2 switch relay interventions per every axis, A3X-RS485 with serial output per every axis
---
Richiedi l'accesso