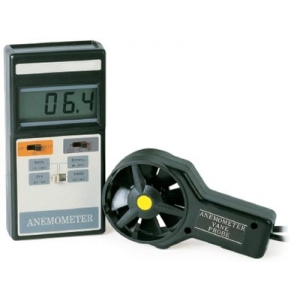 The AM4202 is handed digital anemometer in order to measure the air speed from 0.4 to 30 m/s, with m/s, Km/s, f/min, knots display and the temperature from 0°C to 60°C or 32 to 140°F.
The transducer is made up of a shovel wheel, rotating on law friction ball bearings that allows accurate measures also with low speeds.
Measures are visualizated on an easy reading large liquid crystal display. Other features available are: the last reading storage and the indication ofdescharged bactery.
The instrument has large employments in conditioning, heating installations, fluxes measures, wind speed measures, etc.
The anemograph is built into a strong ABS case, fitted with a n useful bag.
Accuracy
0,8°C, 1,5°F, 2% < 25m/s - ±1digit
Display
LCD 3 1/2 digit, height: 18 mm
Electromagnetic compatibility - EMC
2014/30/EU
Measure range 0÷60°C-32÷140°F, 0,4÷30 m/s
1,4÷108 Km/h; 80÷5910 f/min
Power supply
Battery 9VDC
Relative humidity
max 90 % - (0÷35°C)
Transducer
diam.72 mm sholve mill, rotating on balls bears
Visualization
°C, °F, m/s, Km/h, f/min, nodi
---
Richiedi l'accesso
AM4202




Click here to download >
AM4202




Click here to download >