I100 - I100P
Indicators with gravity reaction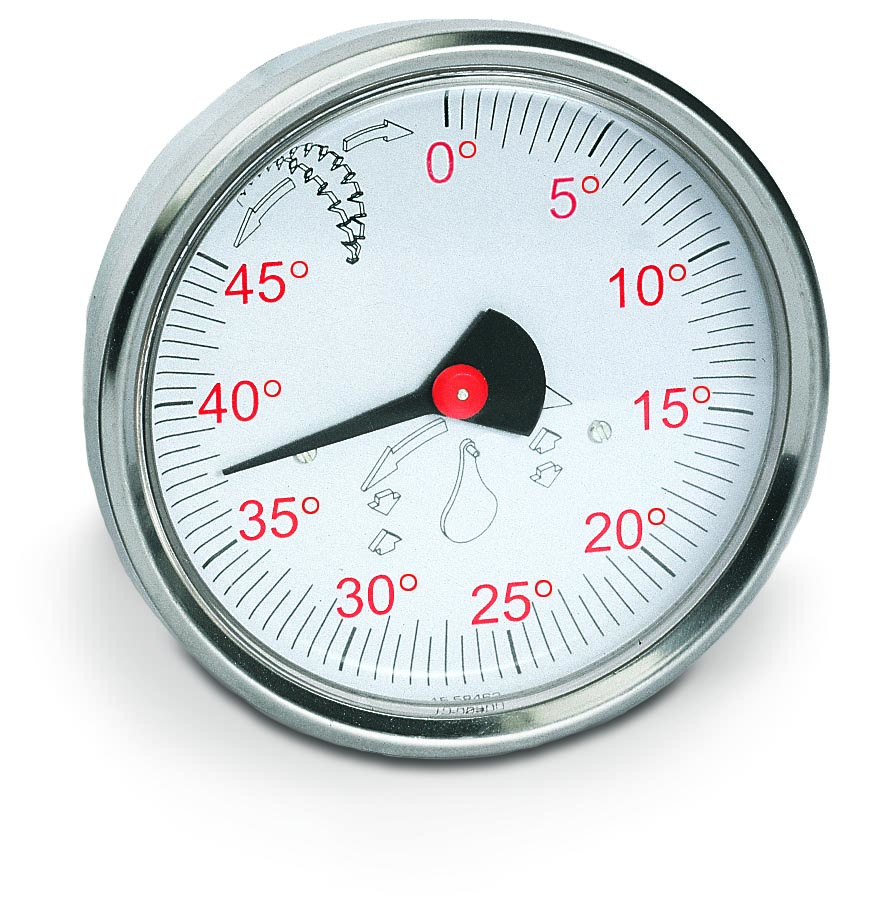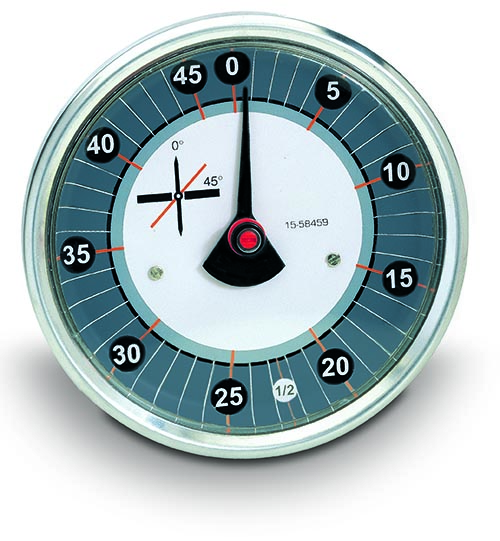 These indicators have to be fitted in motion handwheels to measure adjustments (angles, shiftings, speed, etc.) on a control dial with graduated circular scale. The dial measure is given by one or two pointers: the red pointer carries out a complete turn at every rotation of the drive shaft, and at the same time, the black pointer makes a rotation fraction.The turns that the black pointer needs to carry out to complete a rotation is the ratio of the indicator.
• On request type I100P with positioning screw.
• Technopolymer or metal case. Transparent and shock-proof polycarbonate cover. Protection IP64. Max. temperature 80°C.
• The gravity reaction indicators I100 and I100P are suitable for horizontal or slightly inclined shafts.
• Available with handwheels type P170, P200. (➜ see sec. "P-" in the drop-down menu on the left). 
I100 - I100P
1. Positioning screw


ASSEMBLING
Set the drive shaft on the initial adjusting position. Fix the handwheel with the pressure screw on the shaft and take care that the instrument is set at the zero (initial) position of the pointers.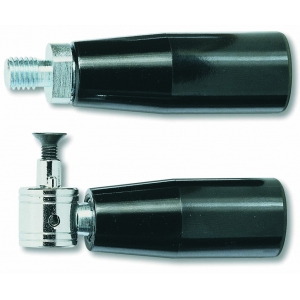 The handles for the P series of handwheels are made in reinforced technopolymer, black colour, solvent-,oil-, grease-proof, etc.
MG - Revolving handle   
Type

Dimensions

 

A

B

C

D

MG40
MG55
MG65
MG85
MGR - Overturnable and revolving handle
COMBINATIONS HANDLES - HANDWHEELS

 HANDWHEELS →
P125
P140
P160
P180
P200
 HANDLES ↓

      

MG40
•

 

 

 

 

MG55
•

 

 

 

 

MG65

 

 •
•
•

 

MG85

 

 

 

 

 •
MGR

 

 •
 •
•

 
The handwheels P140 - P160 - P180 - P170 - P200 are used with analogue and analogue-digital indicators with gravity motion.
• The instrument, fitted inside, is blocked by a fixing screw.
• Used with indicators I80, IN80 (P140 - P160 - P180), I100, I100P (P170 - P200). Available with or without handles.
• Reinforced hardplastic, black colour, solvents-, oils-, greases-proof, etc.
• Steel or aluminium hub. On request bored holes tolerance H8, grooves, transversal bores, etc.
➜ for more complete information, see sec. "Handhweels with indicators..." in the drop-down menu on the left. 
 COMBINATIONS EXAMPLES
 I100P - P170
 I100 - P200

 
---
Richiedi l'accesso
TYPE
REDUCTION RATIO
DIAL SCALE

I100-I100P

             2:1

        0-10; 0-20

I100-I100P

             4:1

        0-10; 0-40

I100-I100P

             6:1

        0-10; 0-60

I100-I100P

           10:1

        0-10

I100-I100P

           12:1

        0-10

I100-I100P

           20:1

        0-20

I100-I100P

           24:1

        0-24

I100-I100P

           30:1

        0-30

I100-I100P

           36:1

        0-36

I100-I100P

           40:1

        0-40

I100-I100P

           60:1

        0-60

I100-I100P

         100:1

       0-100

I100-I100P

         120:1

       0-100

I100-I100P

         200:1

       0-200

I100-I100P

         240:1

       0-200

I100-I100P

         300:1

       0-200

I100-I100P

         400:1

       0-200