MT MTV MTP-AM14-20-P50/10
Position transducers MT, MTV,MTP, magnetic band P50/10, magnetic rings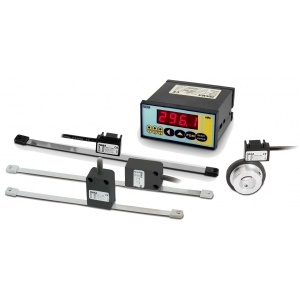 The transducers MT, MTV, MTP, the magnetic strip P50/10, the magnetic rings AM14 or AM20 are incremental systems without contact for linear or angular measures. The capacity to measure distances longer than a meter, easy assembling, absence of parts that contact/rub, a waterproof transducer and a water-oil-dust-shaving resistant strip make this system suitable for a large number of applications, while taking position measurements of machinery within industries such as: machine tools, automatic-, wood-, marble-, glassworking machinery, etc.
The measure transducer integrates in the same device, a sensor sensitive to a magnetic field, an electronic signals conversion circuit, and an output circuit. The sensor running on the magnetic strip or on magnetic ring produces a signal which, opportunely amplified and worked out, is changed into an incremental position signal for interfacing with displays, PLC, CNC, axes control, etc.
Shock-proof, self-extinguishing technopolymer grey case for the models MT (horizontal mounting) and MTV (vertical mounting), aluminium case for the model MTP (horizontal mounting).
● Magnetic Band P50/10: the band consists of a magnetized plastic ferrite strip with alternate magnetic poles of 5 mm pitch, carried by a stainless steel strip-band. Mechanical protection of the plastic ferrite strip is supplied by a stainless steel band.
● Magnetic rings: AM14 with bore ø14, AM20 with bore ø20. Supported by an aluminium ring.

 
                                      MT - MTV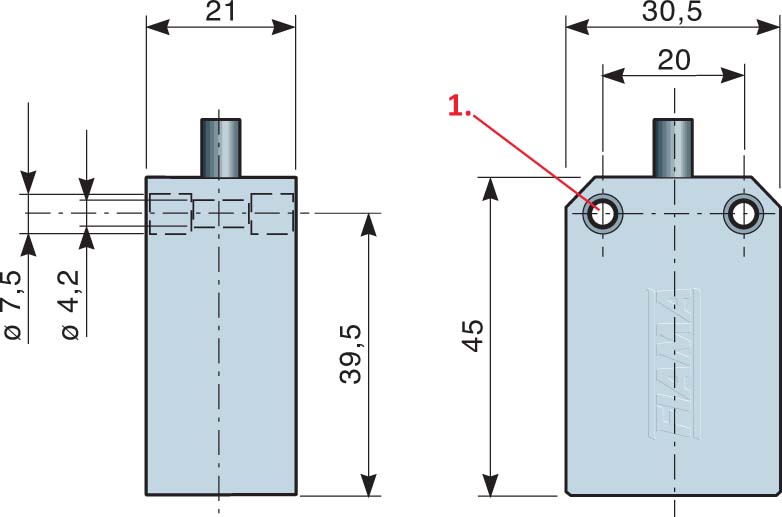 1. 2 fixing bores

                                        MTP                                        

 

1. 2 fixing slots

                                  AM14 - AM20                                

1. Magnetic ring                                                          
2. Sensor MTP  


                                      P50/10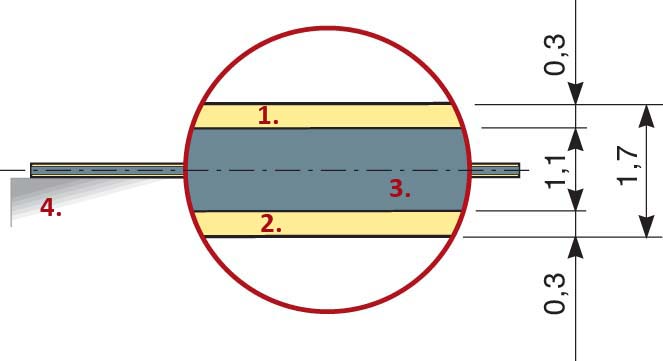 P50/10
1. Stainless steel strip (plastic ferrite support)
2. Stainless steel strip (mechanical protection)    
3. Plastic ferrite strip
4. Machine-base   

                 END-PIECES FOR MAGNETIC BAND               

                          QUOTA POSITIONING                                 
MT                                                                                                      MTV

MTP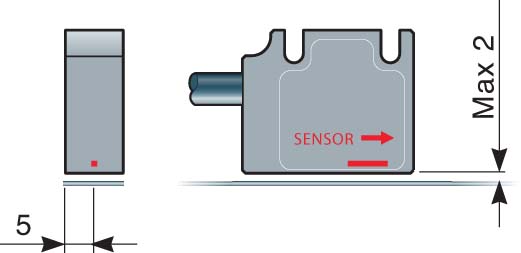 ALLIGNEMENT TOLERANCE                      
        
FOR HORIZONTAL READING
MT1-MTP1
Supply 10-30 Vdc: out PUSH-PULL
MT2-MTP2
Supply 10-30 Vdc: out TTL LINE-DRIVER 5 Vdc
MT3-MTP3
Supply 5 Vdc: out out TTL LINE-DRIVER 5 Vdc
MT4-MTP4
Supply 10-30 Vdc: out LINE-DRIVER 10-30 Vdc
FOR VERTICAL READING
MTV1
Supply 10-30 Vdc: out PUSH-PULL
MTV2
Supply 10-30 Vdc: out TTL LINE-DRIVER 5 Vdc
MTV3
Supply 5 Vdc: out out TTL LINE-DRIVER 5 Vdc
MTV4
Supply 10-30 Vdc: out LINE-DRIVER 10-30 Vdc
TRANSDUCER FEATURES MT-MTV-MTP

Output signals 
2 squaring channels,impuls ref. ea 5mm
Output type
Push-Pull, max 20mA
Resolution (count x 4)
MT-MTV: 0,025 mm; MTP: 0,01 mm
Electrical connection
cable ø6,6: 2, 5, 10 meters
Max speed
3 m/s
Accuracy
±0,1 mm/m
Distance transducer/band
0,2 - 2 mm
Protection degree
MT, MTV = IP66; MTP = IP67
Working temperature 
0 ÷ 50°C
Electromagnetic compatibility 
2014/30/EU
RING FEATURES AM14/20
Magnet diameter
AM14-AM20: ø31
Bore
AM14= ø14 - AM20= ø20 
Max speed
1500 rpm
Resolution 
2500 impulses/revolution 
MAGNETIC BAND P50/10

Length
max. 25 metri
Width
10 mm
Thickness
1,7 mm
Bending radius
≥ 7,5 cm
Linear thermal expansion
11 ppm/K
Working temperature
-10 ÷ 65C°
SB - MODULAR SUPPORT FOR MAGNETIC BAND 

Modular support in anodized aluminium for P25/10 and P50/10, magnetic band, supplied in standard modules L=500mm; custom lenghts available on request.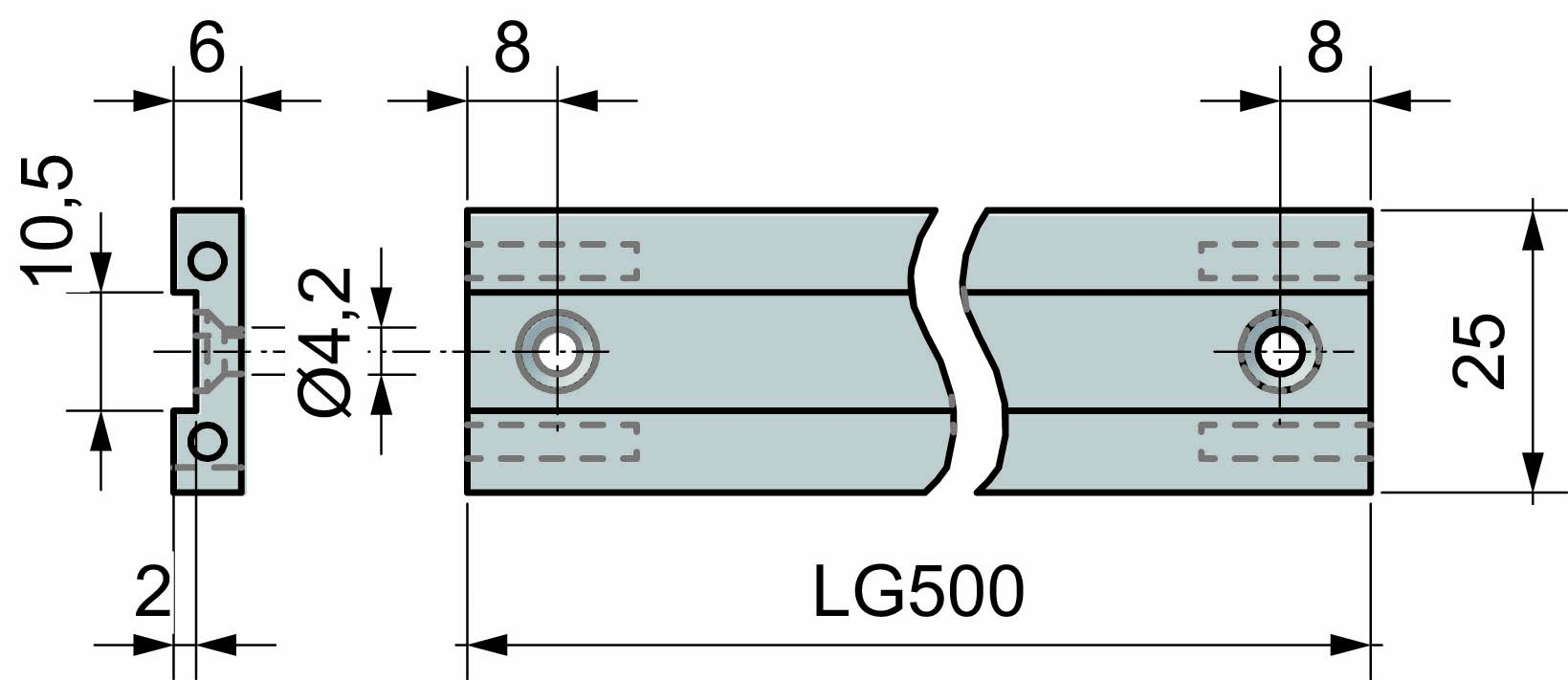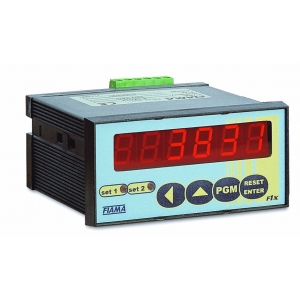 The F_X series are mono-bidirectional display unit with microprocessor with display, particularly suitable for the measurement of linear and angular dimensions with signals supplied by incremental transducers such as encoder and optical lines, magnetic band, proximity sensor.
Other features: input pulses correction factor, enabling of 2 relays, reset/preset of the dimension from keyboard and from terminal box. The F_X are extremely versatile and suitable to many different applications.
The following models have the RS232 or RS485 serial link MODBUS RTU.
• F1X5: mono-bidirectional display unit with microprocessor and six-digit display (reading scale -99999 +999999).
Versions: F1X5- displayed; F1X5-2 with 2 switch relay interventions; F1X5-RS232 or F1X5-RS485 with RS232 or RS485 serial output MODBUS; F1X5-2RS232 or F1X5-2RS485 with 2 relay interventions and RS232 or RS485 serial output. The version F1X5-SSI is used for absolute transducers which use an interface SSI (standard RS422): the system can be configured to accept a gray or binary format with byte numbers that can be selected between 4 and 24.
• F2X: an auxiliary display with two characters enables the guided programming of the display unit.
Versions: F2X- displayed; F2X-2 with 2 switch relay interventions; F2X-4 with 4 relay interventions; F2X-RS232, F2X-RS485 with serial output; F2X-2RS232, F2X-2RS485, with 2 relay interventions and serial output; F2X-T with analogue output; F2X-2T with 2 relay interventions and analogue output.
• A3X: programmable mono-bidirectional multifunction counter with three axes on 6-digit displays, (reading scale -99999 +999999), ideal solution for all the cases in which it is necessary to display the position on machines with three axes (honing machine, milling machine, etc.).
Versions: A3X- displayed, A3X-2 with 2 switch relay interventions per every axis, A3X-RS485 with serial output per every axis
The F7 is a display unit with integrated or external position sensor, in combination with the P50 magnetic band or AM magnetic ring, is a complete system to measure linear movements. It is possible to select: counting direction, number of decimal places, units (mm or inches), absolute/relative measurement, reset/preset. The electronics are protected by a plastic housing which is robust, shock-resistant, and self-extinguishing.
Two versions of the F7 are available:

➤ F7-E with external sensor 
➤ F7-I with integrated sensor 
The display can be fixed quickly and easily using the two threaded holes on the back of the housing or alternatively with the "SM" bracket support, the "SF" flanged support or the "SN" swivel support, which can be supplied optionally (see "Accessories"). The unit is powered by a ½AA 3.6V battery which lasts approximately 4 years and when the battery is almost exhausted, an icon will appear to advise the operator to substitute it. This does not effect the configuration parameters and also the correct measurement is maintained if the magnetic band or ring is not moved during this operation.
VIEW F7-I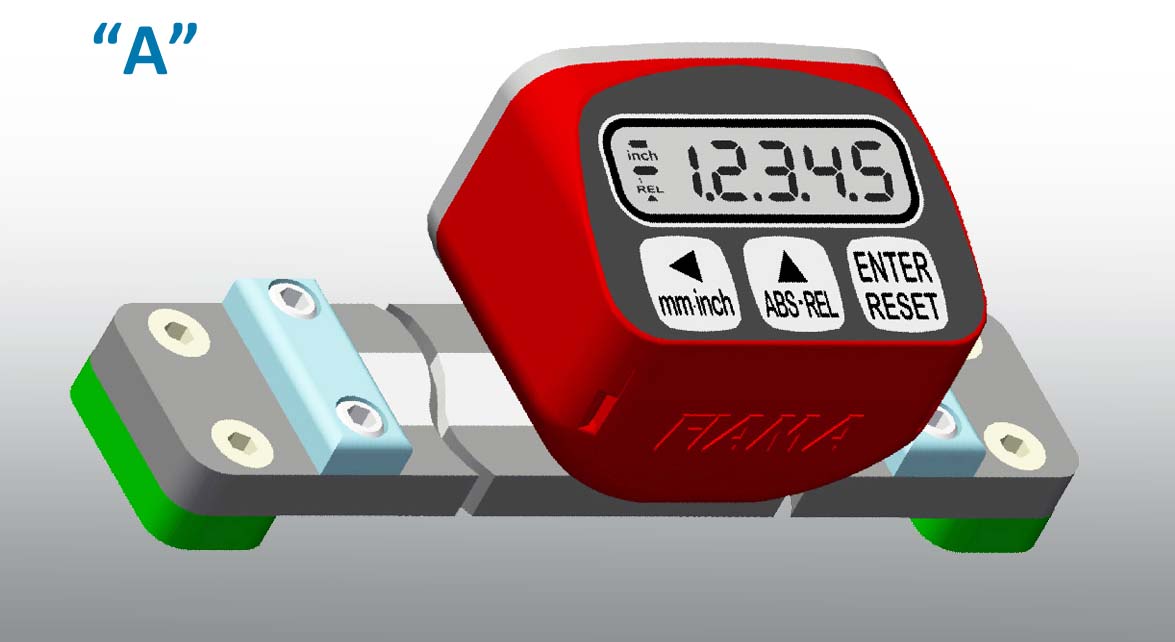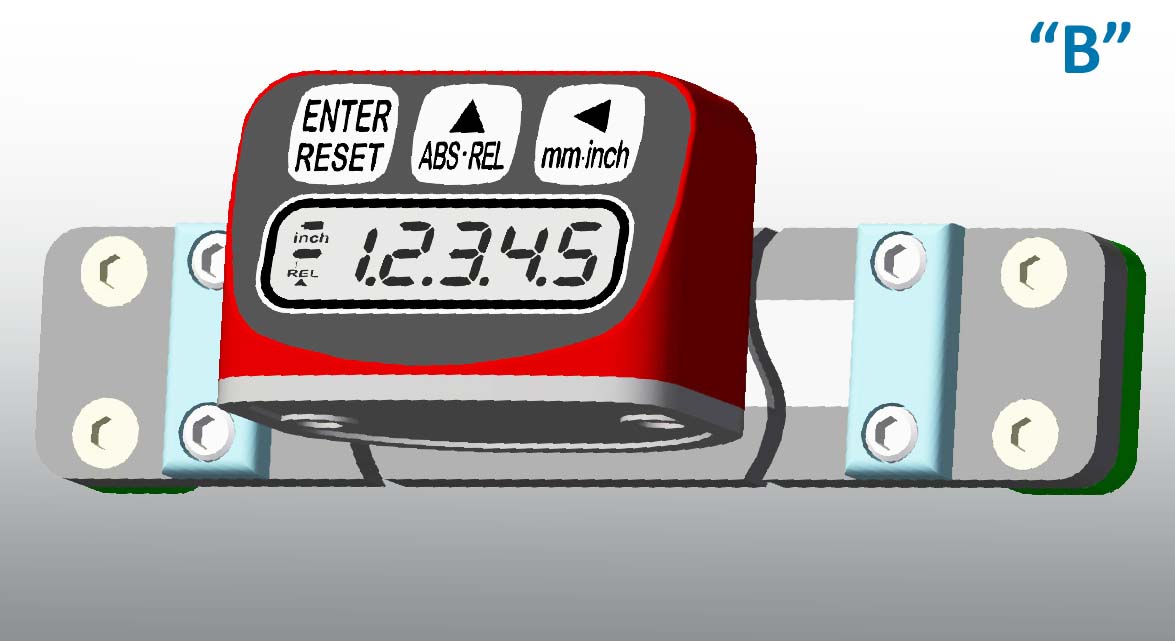 VIEW F7-E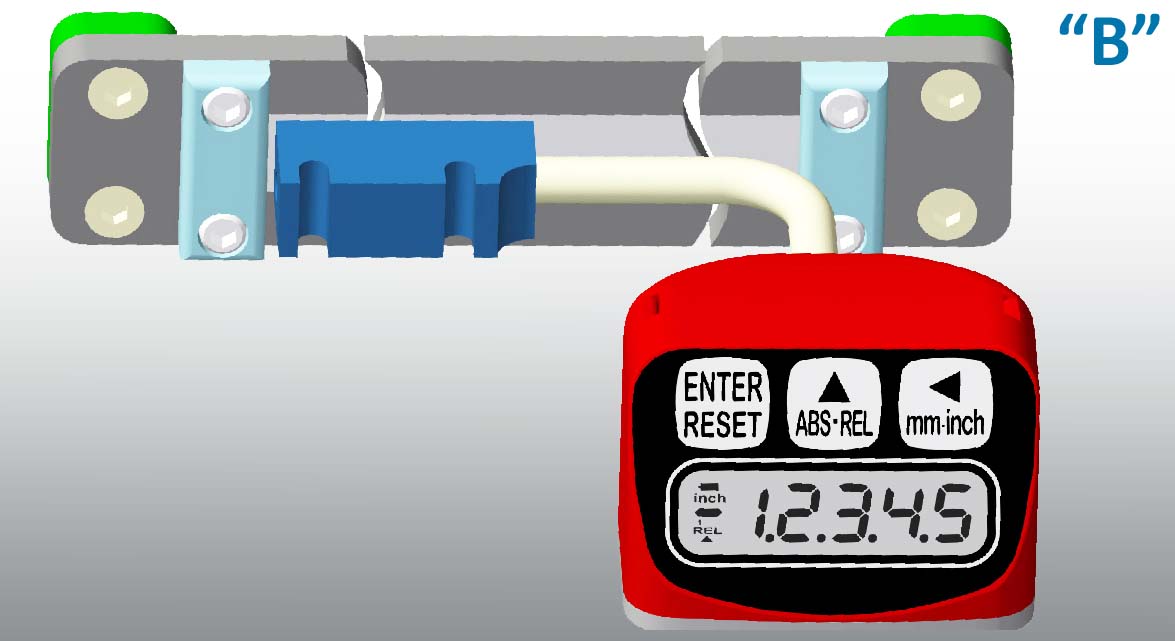 F7P display for panel mounting. Extremely small size with integrated position sensor to be combined with P50 magnetic band or DM30 magnetic ring, offers a complete system for measuring linear and angular displacements.
Main features:
• LCD display with digit 7.5mm height, high visibility.
• Housing in black anodized aluminum, easy installation through two screws on both sides of the instrument.
• Powered by a lithium battery 1 / 2AA 3.6V, 4 years life. The battery holder is external to the instrument for quick and easy replacement and is protected against polarity reversal in the case of incorrect installation of battery.
Main functions:
• Setting of counting direction, measurement units (mm, inches, degrees), decimal point, and multiplication factor
• absolute/relative and reset/preset mode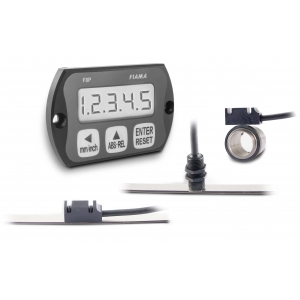 F8P display for panel mounting. Small size with integrated position sensor to be combined with P50 magnetic band or DM30 magnetic ring, offers a complete system for measuring linear and angular displacements.
Main features:
• LCD display with digit 10mm height, high visibility.
• Housing in black anodized aluminum, easy installation through two screws on both sides of the instrument.
• Powered by a lithium battery 1 / 2AA 3.6V, 4 years life. The battery holder is external to the instrument for quick and easy replacement and is protected against polarity reversal in the case of incorrect installation of battery.
Main functions: 
• Setting of counting direction, measurement units (mm, inches, degrees), decimal point, and multiplication factor
• Absolute/relative and reset/preset mode
---
Richiedi l'accesso