MT MTV MTP-AM14-20-P50/10
Position transducers MT, MTV,MTP, magnetic band P50/10, magnetic rings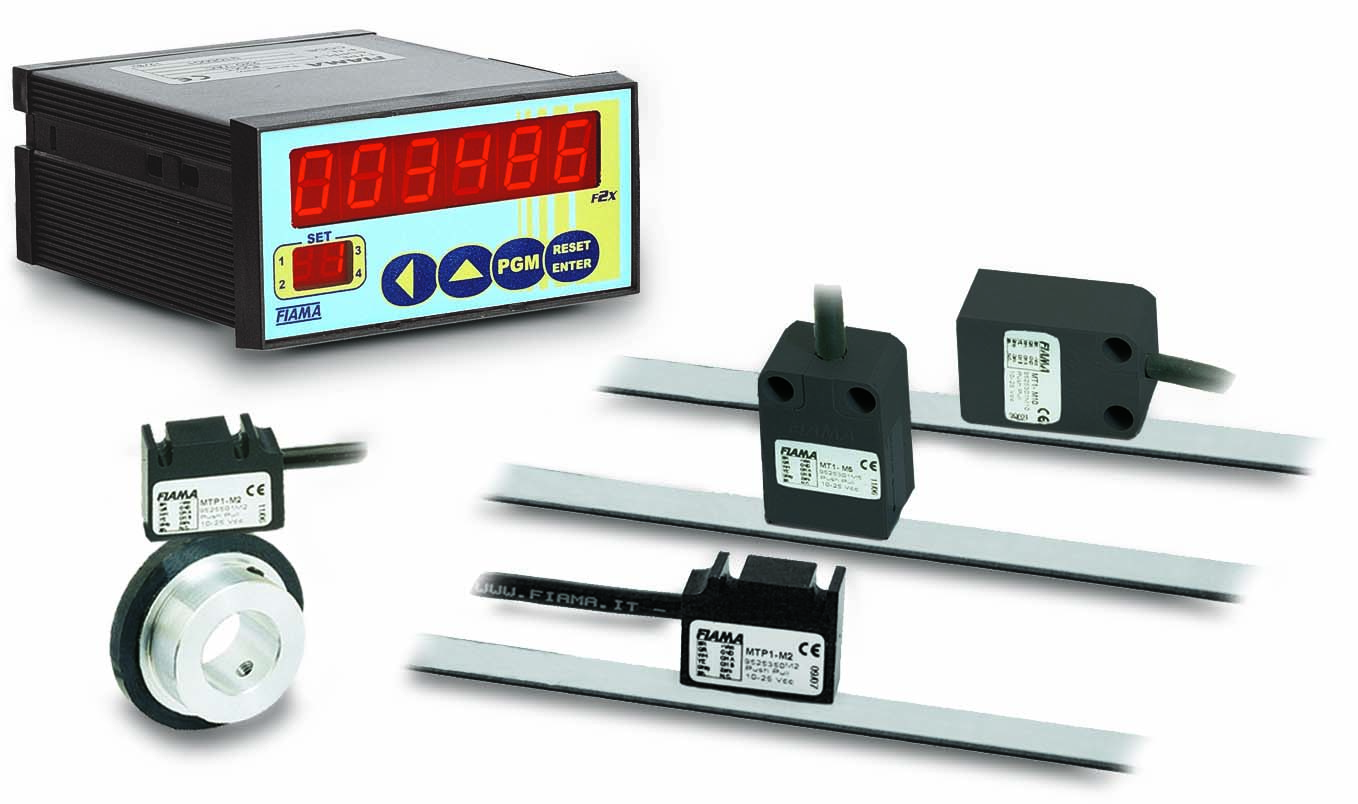 The transducers MT, MTV, MTP, the magnetic strip P50/10, the magnetic rings AM14 or AM20 are incremental systems without contact for linear or angular measures. The capacity to measure distances longer than a meter, easy assembling, absence of parts that contact/rub, a waterproof transducer and a water-oil-dust-shaving resistant strip make this system suitable for a large number of applications, while taking position measurements of machinery within industries such as: machine tools, automatic-, wood-, marble-, glassworking machinery, etc.
The measure transducer integrates in the same device, a sensor sensitive to a magnetic field, an electronic signals conversion circuit, and an output circuit. The sensor running on the magnetic strip or on magnetic ring produces a signal which, opportunely amplified and worked out, is changed into an incremental position signal for interfacing with displays, PLC, CNC, axes control, etc.
Shock-proof, self-extinguishing technopolymer grey case for the models MT (horizontal mounting) and MTV (vertical mounting), aluminium case for the model MTP (horizontal mounting).
● Magnetic Band P50/10: the band consists of a magnetized plastic ferrite strip with alternate magnetic poles of 5 mm pitch, carried by a stainless steel strip-band. Mechanical protection of the plastic ferrite strip is supplied by a stainless steel band.
● Magnetic rings: AM14 with bore ø14, AM20 with bore ø20. Supported by an aluminium ring.

 
 MT - MTV 
 
1. 2 fixing bores
 QUOTA POSITIONING   
 MT
 MTV
 
            
 ALLIGNEMENT TOLERANCES
MTP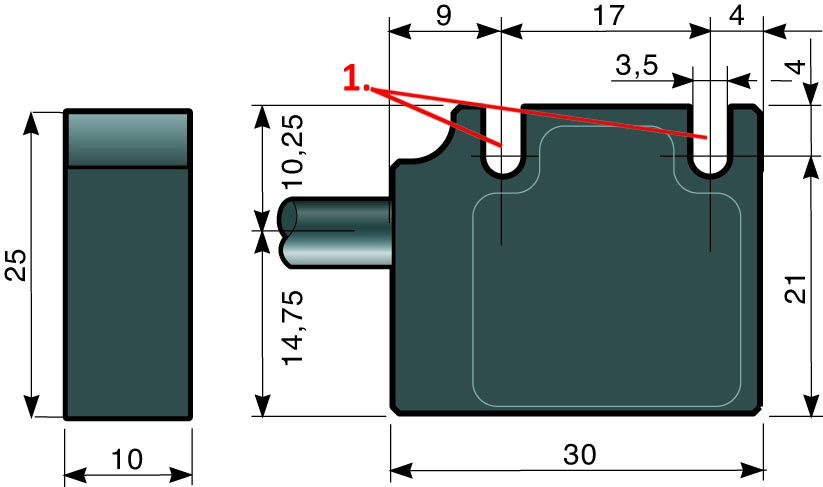 1. 2 fixing slots
QUOTA POSITIONING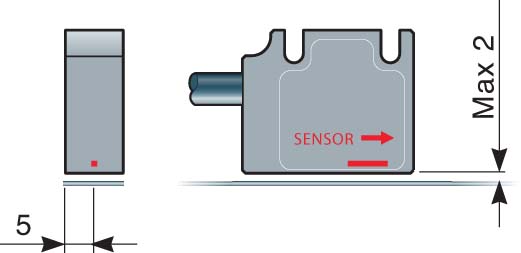 ALLIGNEMENT TOLERANCE
AM14 - AM20 
1. Magnetic ring                                                          
2.
 Sensor MTP
P50/10   
 END-PIECES
 
1.

S

ensor side


2. 

Machine-base


3. 

Stainless steel strip (mechanical protection)

  
4. 

Plastic ferrite strip

 
5.

Stainless steel strip (plastic ferrite support)
FOR HORIZONTAL READING
MT1-MTP1

Supply 10-30 Vdc: out PUSH-PULL

MT2-MTP2

Supply 10-30 Vdc: out TTL LINE-DRIVER 5 Vdc

MT3-MTP3

Supply 5 Vdc: out out TTL LINE-DRIVER 5 Vdc

MT4-MTP4

Supply 10-30 Vdc: out LINE-DRIVER 10-30 Vdc

FOR VERTICAL READING
MTV1

Supply 10-30 Vdc: out PUSH-PULL

MTV2

Supply 10-30 Vdc: out TTL LINE-DRIVER 5 Vdc

MTV3

Supply 5 Vdc: out out TTL LINE-DRIVER 5 Vdc

MTV4

Supply 10-30 Vdc: out LINE-DRIVER 10-30 Vdc
TRANSDUCER FEATURES MT-MTV-MTP

Output signals 

2 squaring channels,impuls ref. ea 5mm

Output type

Push-Pull, max 20mA

Resolution (count x 4)

MT-MTV: 0,025 mm; MTP: 0,01 mm

Electrical connection

cable ø6,6: 2, 5, 10 meters

Max speed

3 m/s

Accuracy

±0,1 mm/m

Distance transducer/band

0,2 - 2 mm

Protection degree

MT, MTV = IP66; MTP = IP67

Working temperature 

0 ÷ 50°C

Electromagnetic compatibility 

2014/30/EU
RING FEATURES AM14/20

Magnet diameter

AM14-AM20: ø31

Bore

AM14= ø14 - AM20= ø20 

Max speed

1500 rpm

Resolution 

2500 impulses/revolution 
MAGNETIC BAND P50/10

Length

max. 25 metri

Width

10 mm

Thickness

1,7 mm

Bending radius

≥ 7,5 cm

Linear thermal expansion

11 ppm/K

Working temperature

-10 ÷ 65C°
SB - MODULAR SUPPORT FOR MAGNETIC BAND  
Modular support in anodized aluminium for P25/10 and P50/10, magnetic band, supplied in standard modules L=500mm; custom lenghts available on request.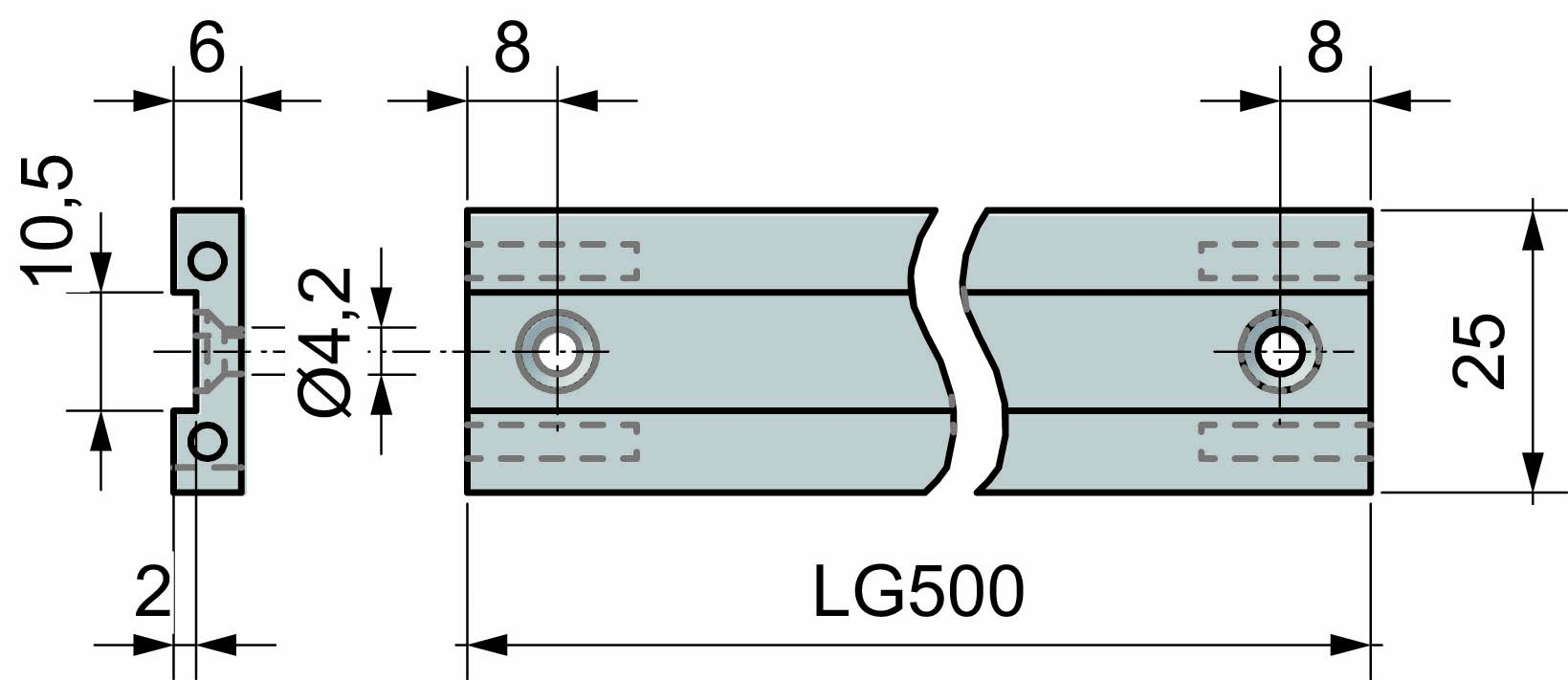 1 module of 500mm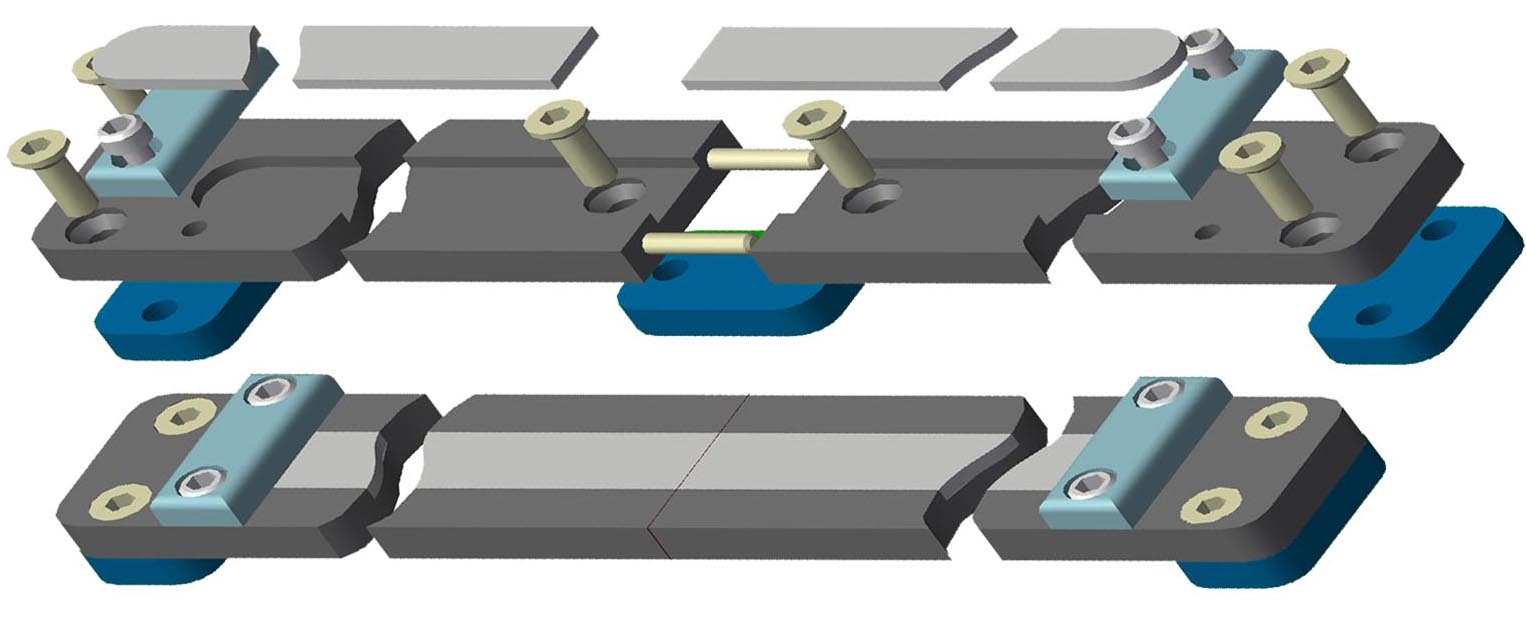 3 modules of 500mm

---
Richiedi l'accesso