CP85
Pneumatic level control for fluid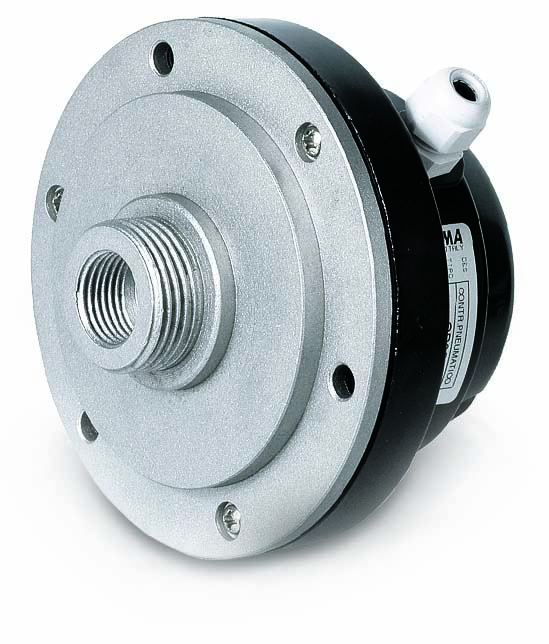 The CP85 is a level control, simple and economical; the case is fixed directly to the tank, by the means of flange or threaded joint 1" gas.
Inside, there is a membrane that forms a pressure chamber to connect to the pneumatic outlet with a 1/2" pipe (rubber, plastic, metal, according to product) whose end is the min. or max. level point.
Air pressure produced by the level increasing presses the membrane that activates a microswitch (release point): when fluids goes under the release point, the switch commutates again (drop-out point).
➤ In this item there are not parts that make direct contact with liquids, so that it's possible to control viscous liquids and wastes on pipes wall: oils, paints, inks, dense alimentar fluids like honey, chocolate, marmelade, scyrop etc.

1. Sensibility adjustment screw
2. Fixing flange 
3. Inner pneumatic coupling 1/2"GAS
4. Threaded joint 1" GAS
5. Pressacable 
STANDARD ASSEMBLY
ASSEMBLY INSIDE VISCOUS LIQUIDS
PS = release point 
PR = drop-out point 
END = pipe end 
They are measured as distance from pipe end.
Following values for water:
PS: mm 60+-5
PR: mm 45+-5 
Case
black self-extinguishing ABS
Electrical contacts
6A a 250V
Electromagnetic compatibility - EMC
2014/30/EU
Low tension - LVD
2014/35/UE
Working pressure
atmospherical
Working temperature
-10° +60°C
---
Richiedi l'accesso