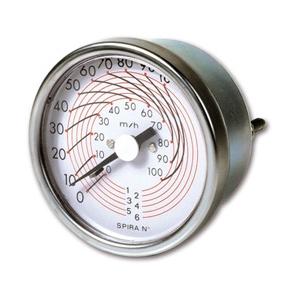 Suitable for instant measuring of rotation or translation speed.
Panel setting with brackets.
Stainless steel frame, sheat case. Protection IP64. Max. temperature 70°C.
Full scale: 150 - 5000 r.p.m. Accurate reading on linear scale.
Ratio between revolutions and dial indication on request.
Compensation depending on temperature.
Instrument calibration by means of adjusting screw.
Drive shaft on self-lubricating bushings.
Connection to top gears on the shafts with flexible transmission M20x1.
Different scales and double direction rotation dial implementation.
---
Richiedi l'accesso