F20-F18-F18R
Dimensions display and magnetic band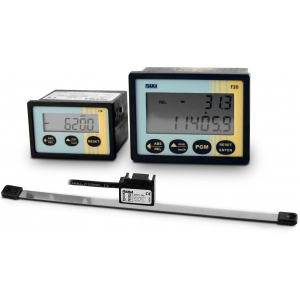 These are dimensions display with integrated position sensor to be combined to the magnetic band in order to carry out a complete device for measuring linear or angular shiftings.
➤ It is possible to select the count direction, the position of the decimal point on the displayed dimension, and the measure unit (mm or inches, degrees).
The displayed dimension may be corrected through a programmable factor with values ranging from 0,00001 and 999999. The dimension display may be carried out either in absolute or in incremental mode by simply pressing the suitable key; this relative measures within the measuring field may be carried out. It is also possible to set a preset dimension that may be recalled through the suitable key. There are also available distinct origins for the correction of quota by using different tools and the offset function for the balancing of tool wear. The keys enabling to recall the preset dimension and the absolute dimension/relative dimension switch may be inhibited in a very simple way.
On the display all activated functions are showed by a symbol. The run-down of battery is indicated with occasional blinking, 1 month before the complete flat the indication remains on; changing of battery is carried out in very easy way and without loosing quota, by standing machine.
Versions:
• F20 with internal power supply (4 batteries type AA of 1,5V: two-year-life);
• F18 with internal power supply (2 batteries type AA of 1,5V: one-year-life);
• F18R with external power supply 10-25Vdc and internal rechargeable battery (functioning for 5 months without power supply), serial output RS485 protocol MODBUS RTU for communication with remote units.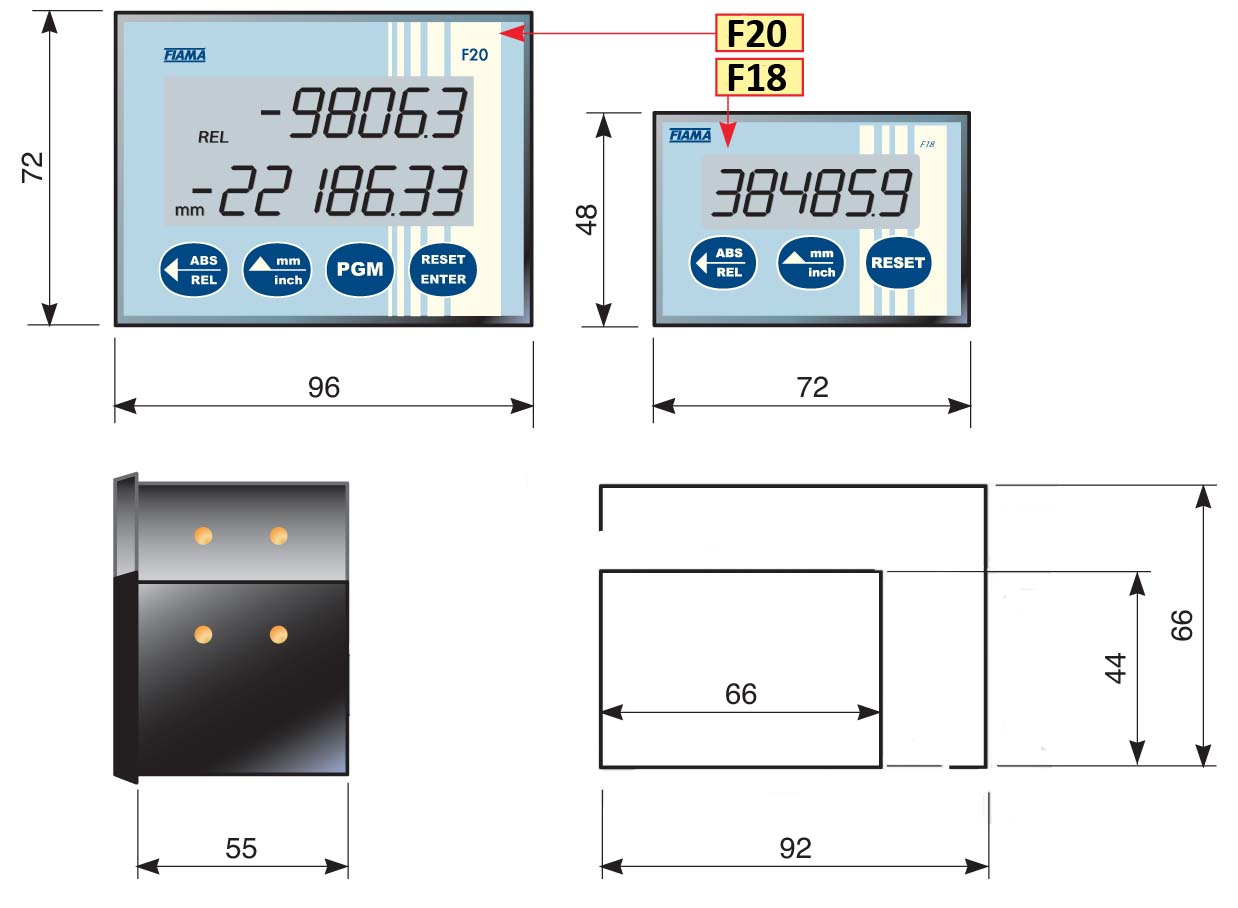 Integrated sensor type S25 and magnetic band P25
The sensor fits magneto-resistive bridges that send the signal read on the magnetic band to converison electronics.
The P25 band with 2.5mm magnetic pole is realised with the use of three components: 

 = ribbon in magnetized resilient plastic ferrite


  = metal plate as protection against dirt an possible mechanical frictions (to be mounted by the cusotmer)

 = strip in stainless (Factory preassembled to be glued on the machine side).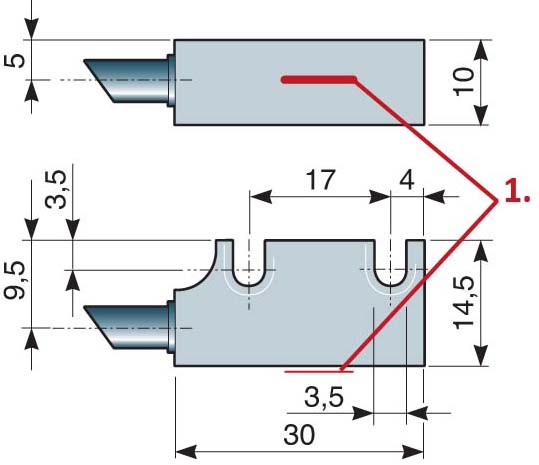 TECNICAL FEATURES SENSOR S25
Cable length
0,5 - 1,0 - 3,0 - 5,0 meters
Material
metal
Working temperature
0° + 50°C
Distance sensor/band
max. 0,8 mm
Maximum speed
 max. 2,5 m/sec
TECNICAL FEATURES MAGNETIC BAND P25
Width/thickness/length
10mm - 1,6 mm -25 mm max.
Working temperature
-20° +80°C
Precision
0,1 mm/m
Thermic expansion
11ppm/K
Bending radius
7,5 cm
Available functions

Reset/preset, absolute/incremental quota, conversion mm/inch, visualisation in degrees, 5 distinct origin for tool changing, balancing of tool wear
Cable length
0,5 m - 1,0 m - 3,0 m - 5,0 m
Electromagnetic compatibility - EMC
2014/30/EU
Keyboard
4 keys for programming and start of functions
Low tension - LVD
2014/35/UE
Max. speed
max. 2,5 m/sec
Power supply F20: 4 batteries AA 1,5V
F20R: external 10-25 Vdc
F18: 2 batteries AA 1,5V
F18R: external 10-25 Vdc
Relative humidity
30 -90%
Self-extinguishible shock-proof case
72x96 DIN 43700 - IP54
Sensor speed
max. 2,5 m/sec
Sensor/band distance
max. 0.8 mm
Serial port
F20R - F18R: RS485 MODBUS RTU
Thermic expansion
11 ppm/K
Visualization
-999999 +999999 - LCD
Working temperature
0°- +50°C
SB - MODULAR SUPPORT FOR MAGNETIC BAND 

Modular support in anodized aluminium for P25/10 and P50/10, magnetic band, supplied in standard modules L=500mm; custom lenghts available on request.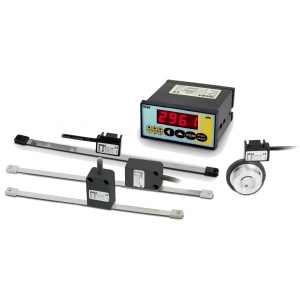 The transducers MT, MTV, MTP, the magnetic strip P50/10, the magnetic rings AM14 or AM20 are incremental systems without contact for linear or angular measures. The capacity to measure distances longer than a meter, easy assembling, absence of parts that contact/rub, a waterproof transducer and a water-oil-dust-shaving resistant strip make this system suitable for a large number of applications, while taking position measurements of machinery within industries such as: machine tools, automatic-, wood-, marble-, glassworking machinery, etc.
The measure transducer integrates in the same device, a sensor sensitive to a magnetic field, an electronic signals conversion circuit, and an output circuit. The sensor running on the magnetic strip or on magnetic ring produces a signal which, opportunely amplified and worked out, is changed into an incremental position signal for interfacing with displays, PLC, CNC, axes control, etc.
Shock-proof, self-extinguishing technopolymer grey case for the models MT (horizontal mounting) and MTV (vertical mounting), aluminium case for the model MTP (horizontal mounting).
● Magnetic Band P50/10: the band consists of a magnetized plastic ferrite strip with alternate magnetic poles of 5 mm pitch, carried by a stainless steel strip-band. Mechanical protection of the plastic ferrite strip is supplied by a stainless steel band.
● Magnetic rings: AM14 with bore ø14, AM20 with bore ø20. Supported by an aluminium ring.

 
---
Richiedi l'accesso
F20 F18 F18R




Click here to download >
F20 F18 F18R




Click here to download >