RINV-OP65
Angular flanged gearbox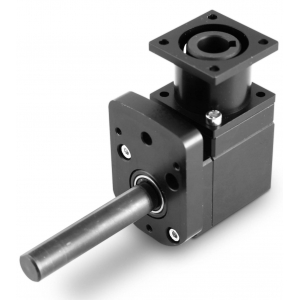 The RINV-OP65 is a flanged angular gearbox that, combined with a mechanical position indicator type "OP7" or an electronic position indicator type "EP7", allows to carry out a visualized adjustment, angular or linear, even if the shaft is in an uncomfortable position.

• Several orientations and connection possibilities. 
• Available with ratios: 1:1 - 1:2 reduction - 2:1 moltiplication. 
• Maximum output torque 8Nm. 
• Aluminium case, black anodized. Steel shafts. Steel bevel gears, case-hardened (Pronox). 
• Movements on ball-bearings, water-proof. 
• Radial load 25 kg - axial load 2,5 kg
• Weight gr. 550.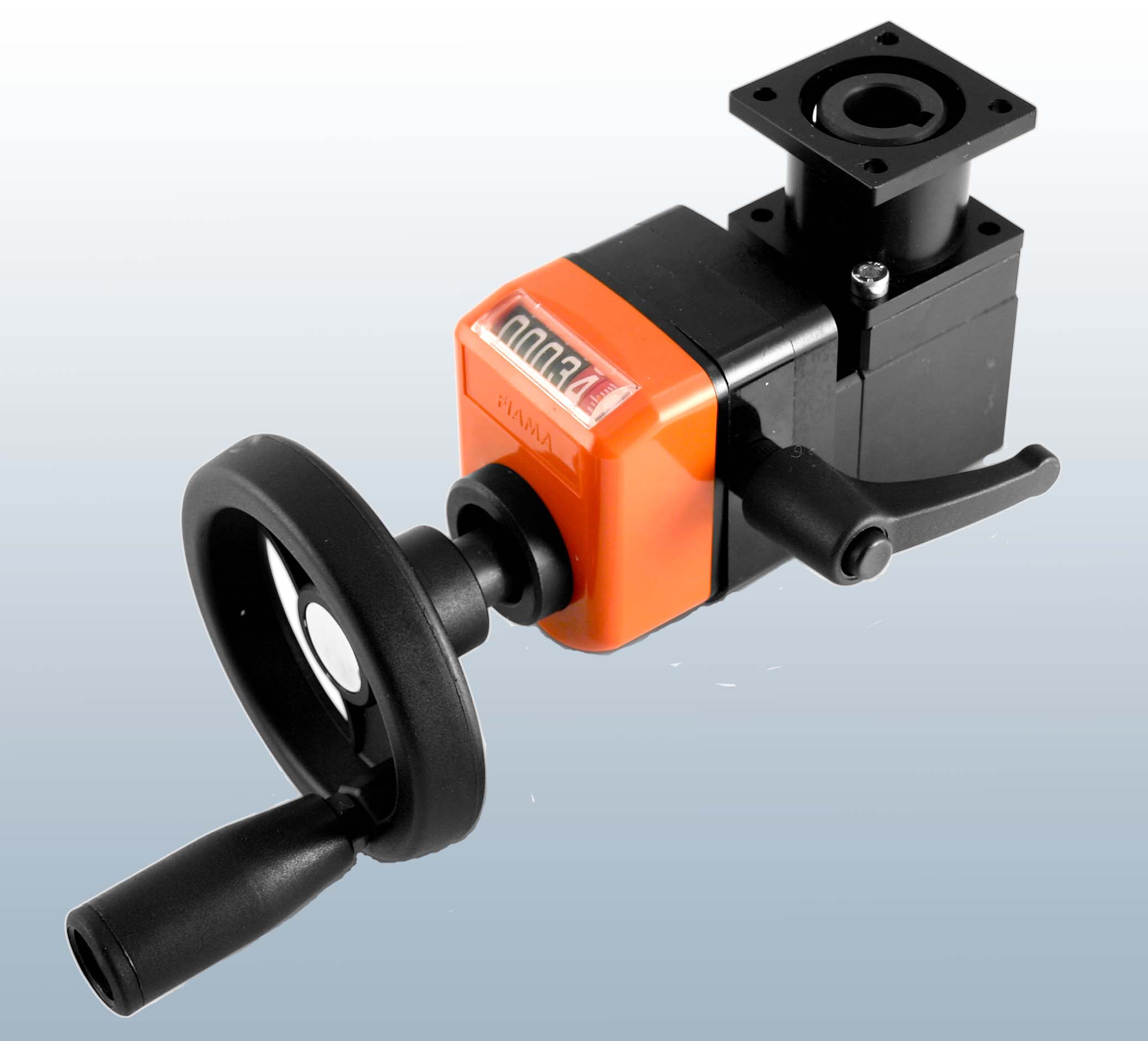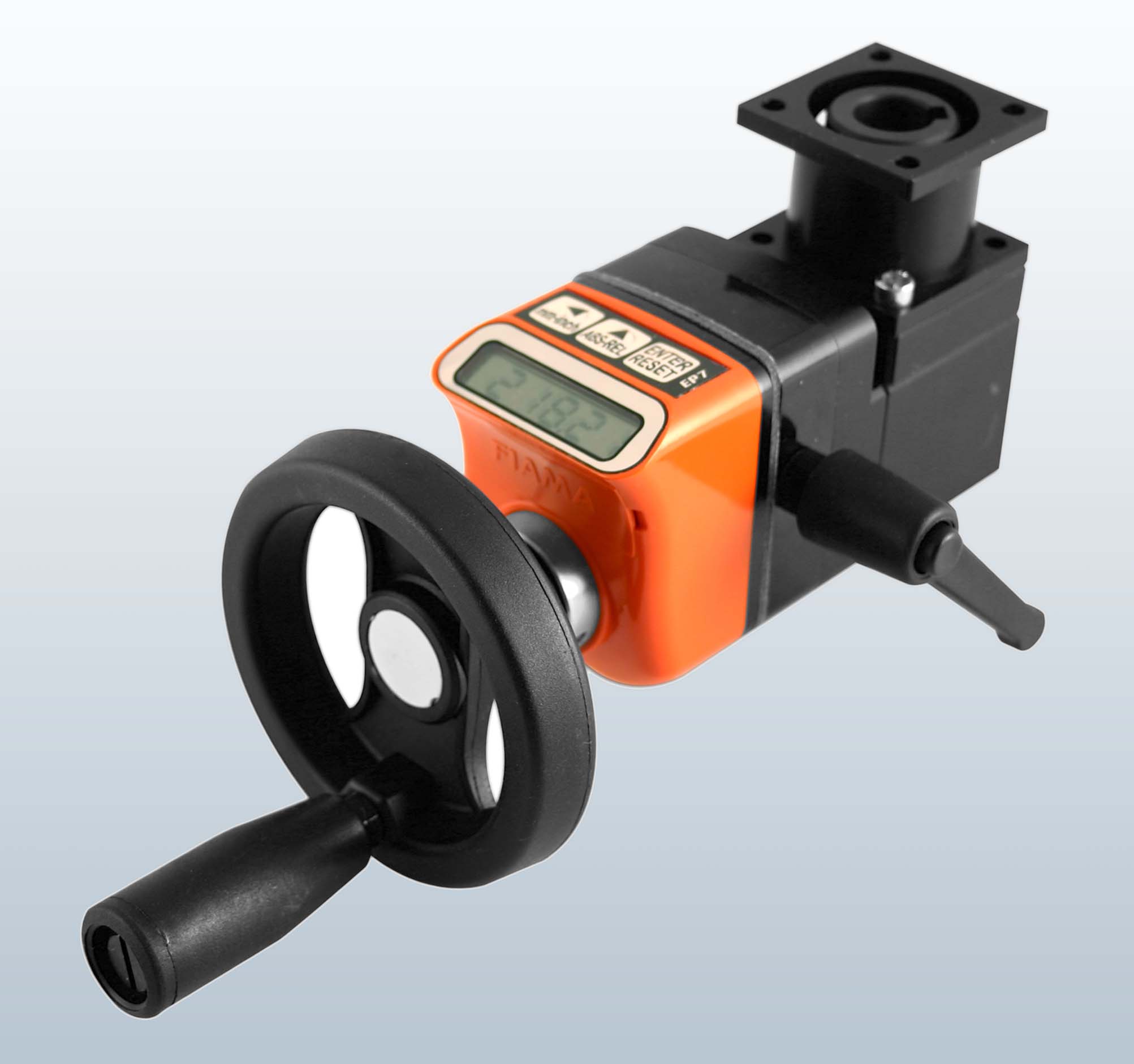 A.  4 fixing bores Ø4,-M4
B.  Spline 5x5
C.  N.3 M6-120°
D. Fixing flange OP7- EP7 
E.  Hollow shaft Ø14x16 
EXAMPLES OF MOUNTING POSITIONS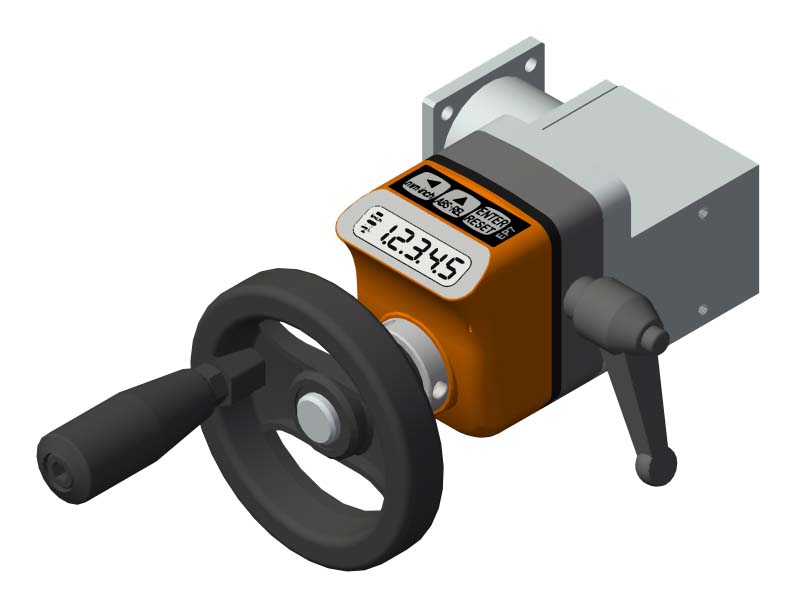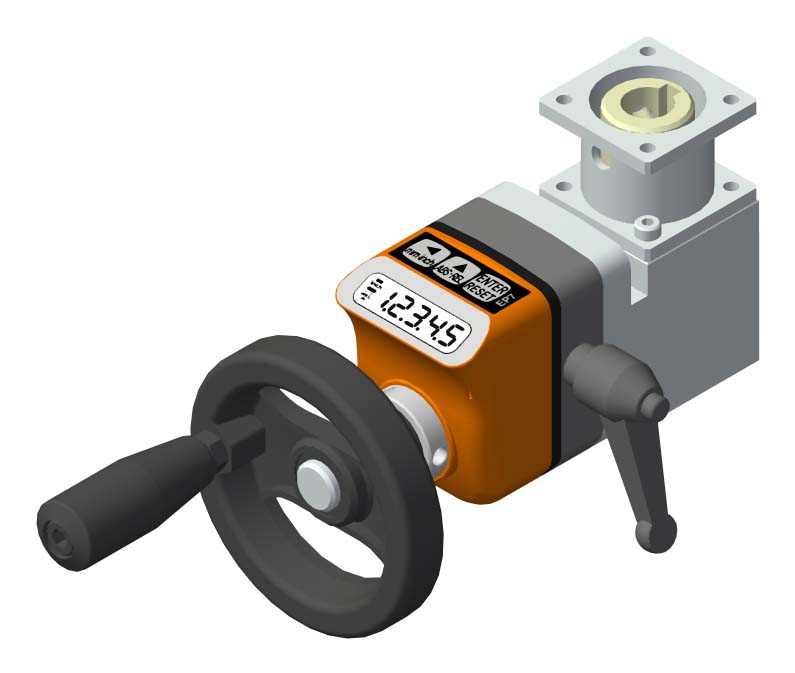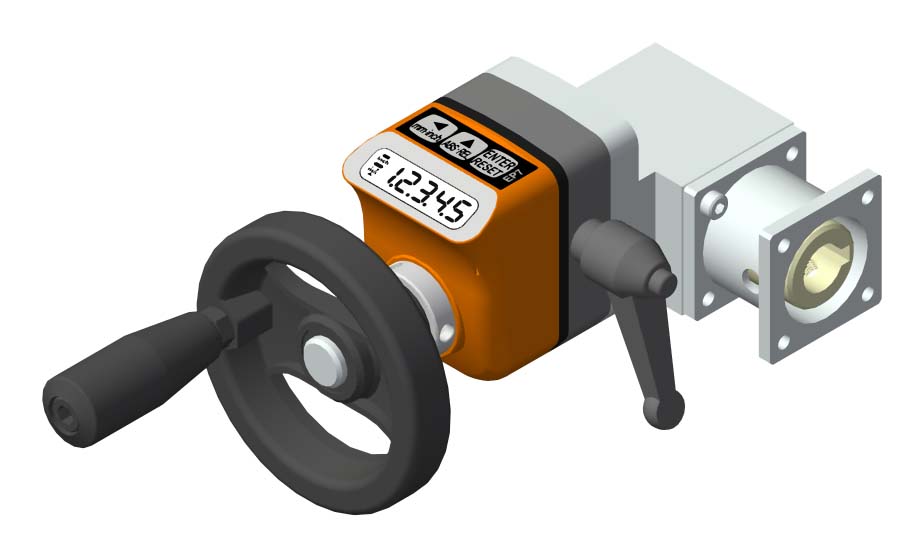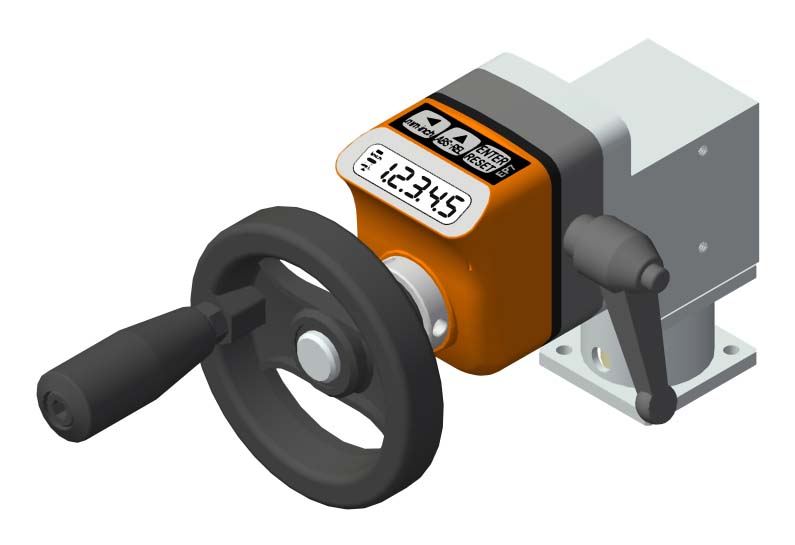 The RINV-OP is supplied standard as per overall drawing.
To change the mounting position of the OP flange, screw-off the two fixing screws, turn the flange in desired position, and fix the two screws.
To fix the machine side, insert shaft Ø14 into the hollow shaft of the RINV-OP, and lock with fixing screws M6 or spline.

With the shaft block flange on the OP2, OP3, OP6, OP7, OP5, OP9 indicator as a compact unity, we obtain a safe blocking of the drive shaft. Block component in aluminium:
• bore diameter ø8, ø10 and ø12 for OP2
• bore diameter ø14 mm and ø10 mm for OP3
• bore ø20 mm and ø14 mm for OP6 and OP7
• bore ø25mm for OP6F25, OP7F25
• bore ø20mm for OP5
• bore ø20, ø25mm for OP9
Other holes with a reducing bush. Handle in position a or b. Available with stainless steel flange in model FL-B OP3, bore ø14.
Thermoplastic material, steel bush.
Thermoplastic material, steel bush.
The EP7 electronic indicator, which is supplied with an internal battery and includes in the same case the position sensor and the display unit, measures linear or angular movements:it is compact, easy to install, and applicable to many types of industrial machinery (packaging, woodworking, aluminium, coil etc).
The display has 5 digits and sign with range from -99999 to 99999 and the 7,5mm-high-digits allow excellent readability also from a distance. With the 3 front buttons it is possible to program:

• the value shown on the display for every turn of the hollow shaft 
• measurement direction
• reference reset/preset
• absolute/relative reference
• mm/inches conversion and display in degrees. 

There are also 3 distinct origins for the correction of the reference when using different tools and the offset function for the compensation of tool wear. On the display all activated functions are shown by a symbol.
The electronic section is protected inside an elegant and robust case made of self-extinguishing and shock-proof plastic material. The drive shaft is made of stainless steel.
The power supply is internal with a ½ AA 3,6V battery which has a four-year-life. The low battery level icon is shown when it is necessary to replace the battery, which is very easy and the reference is maintained when the shaft remains stationary. Die
This is a 5-digit indicator to adjust and directly read a motion (or an angle) obtained by a drive shaft rotation. Perfectly interchangeable with indicator OP6 but smaller and closer.
The total height of indicator OP7 with spacer flange or block flange is the same of OP6.
The coupling of numbers with a rubber-joint allows, especially in high ratios, a bigger flowability and manoeuvre speed.
• Shock-proof self-extinguishing technopolymer case. Protection IP64. Max. temperature 80°C.
• Reading with 18° inclined or frontal view. Lens to improve the reading: digit height 7 mm.
• 5 digits counter (standard red digit indicates decimals; on request 2 red digits for hundredths or 5 black digits) and a digit with hundredth divisions. Readings until 99999.
• On request special ratios and measures in Inch.
• Standard shaft hole ø20 (OP7) or ø25 hole (OP7F25). Other holes smaller than 20 with a reducing bush.
• As option (c) security dowel Ø 10,5/12 mm.
• Model IN with inox metallic parts.
• Colours: orange RAL 2004, black RAL 9005, red RAL 3000, grey RAL 7004.
• Available attachments: shaft block flange, polycarbonate spacer flange, anodizid aluminium movement knob.
---
Richiedi l'accesso
                REPRESENTATION OF REDUCTION AND MULTIPLYING RATIOS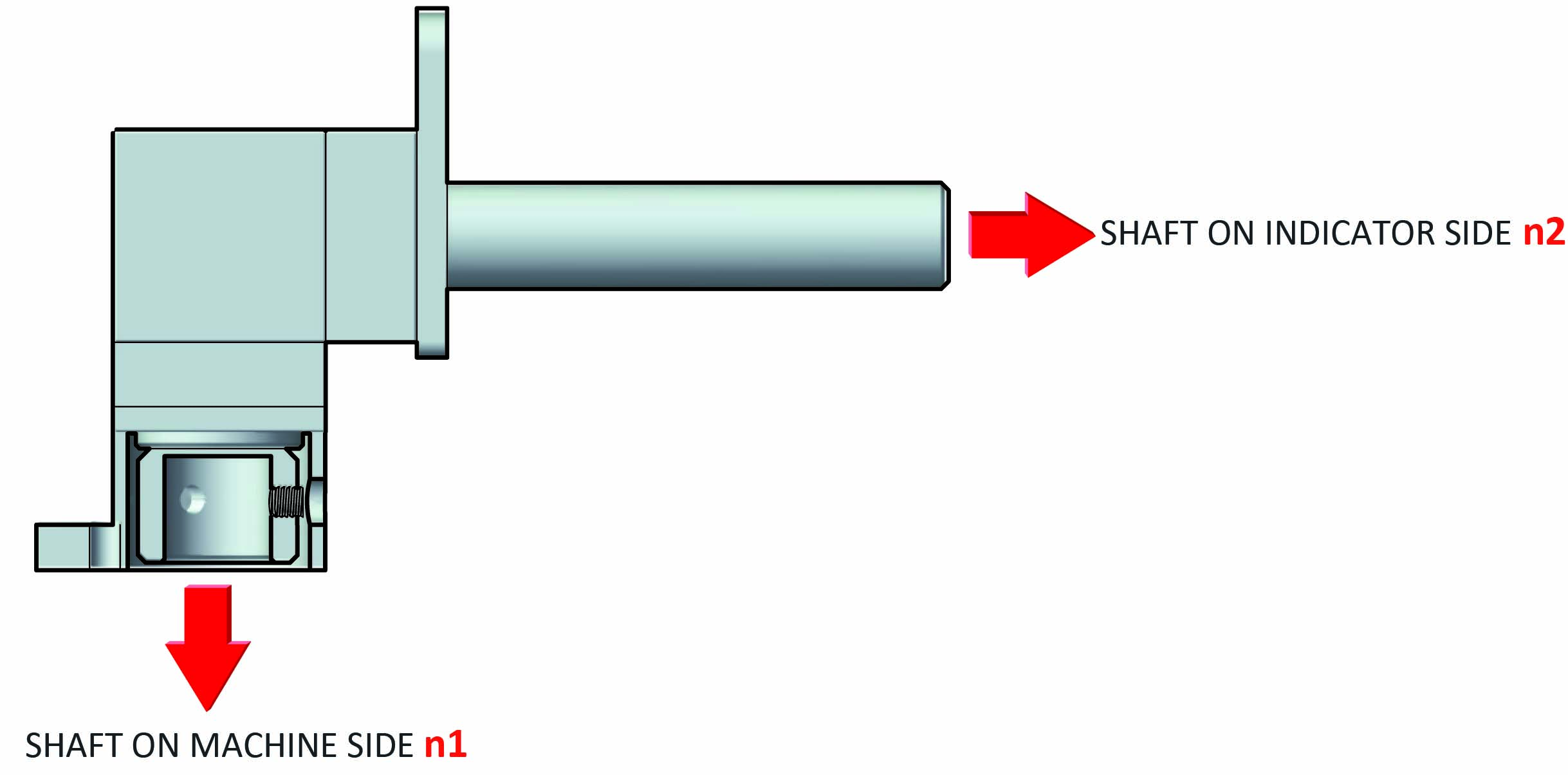 RADIAL AND AXIAL LOAD                                            
The loads are generated by the items connected to the gearbox and can be created for example by the pull of belt drives, accelerations and decelerations, structural misalignments, vibrations, shocks, etc. 
The loads acting on the shafts can be of two types: radial ‹Fr› (radial force) and axial ‹Fa› (axial force), referred to the axis of the shaft; when ordering specify whether the axial load is pull or push type. 
                    Fr = radial load
                    is the load acting in perpendicular direction to the shaft/axis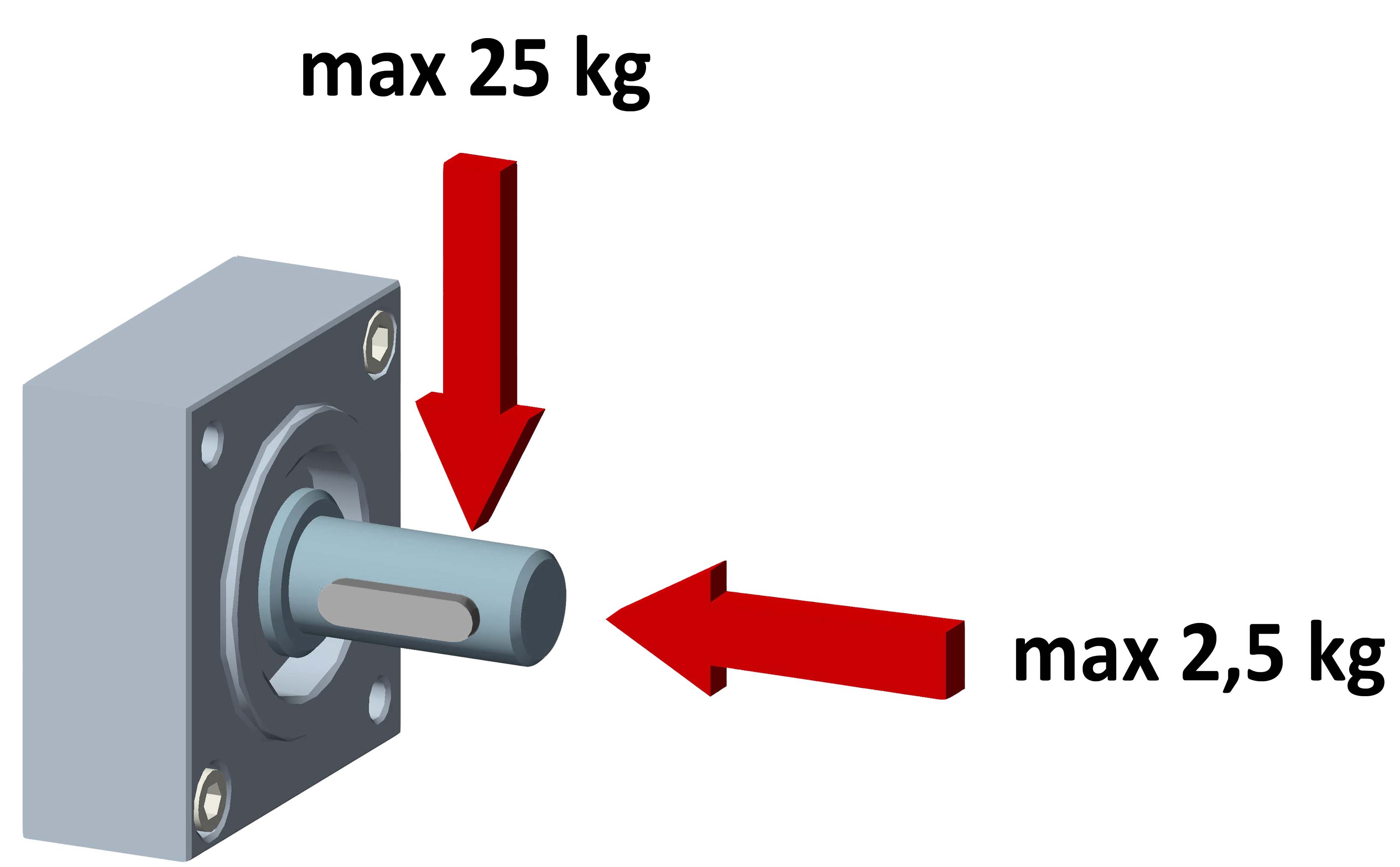 Fa = axial load
                                                        is the load acting of the shaft/axis
                                         GEARBOX LIFETIME CALCULATION                                       
THEORETIC EXPECTED LIFE* = 10.000H X FU

         RECOMMENDED TORQUE (NM) 
FU = ----------------------------------
         APPLIED TORQUE (NM)**
* The lifetime of 10.000h considers the following conditions: 
- Applied torque = advised torque (see tables) 
- Maximum of 8 working hours per day 
- Working temperature 20 ° - No shocks
 
** Output torque actually applied 
*** Max torque applied
 
"To identify the most suitable gearbox for your requirements, refer to the values in the table. If the loads and efficiency are very close to the table values, contact the technical department". 
Output torque with ratio 1:1



  Max torque


  Recommended torque
| | | | | | | |
| --- | --- | --- | --- | --- | --- | --- |
| | | | | | | |
| | | | | | | |
| RPM | 50 | 100 | 200 | 400 | 800 | 1400 |
                                                                                                       Efficiency = 90%
Output torque with ratio 1:2
 

  Max torque


  Recommended torque
| | | | | | | |
| --- | --- | --- | --- | --- | --- | --- |
| | | | | | | |
| | | | | | | |
| RPM | 50 | 100 | 200 | 400 | 800 | 1400 |
                                                                                                  Efficiency = 90%