OP5
Position indicator with hollow shaft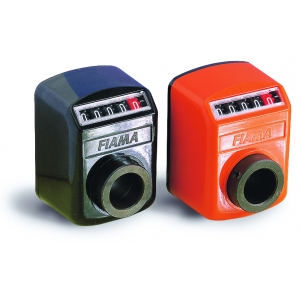 This is a 5-digit indicator to adjust and to read directly a motion or an angle, obtained by a drive shaft rotation.

• Shock-proof, self-extinguishing technopolymer case. Protection IP54. Max. temperature: 70°C .
• Reading with 45° inclination view.
• 5 digits counter (standard red digit indicates decimals; on request 2 red digits for hundredths or 5 black digits) with readings until 99999.
Digit height mm 5,5.
• On request special ratios and measures in Inch.
• Standard shaft hole: 20 H; different holes smaller than 20 with reducing bush (see p. 26).
• Model OP5 with roller for positioning and zero-setting AZZ. 4 digits counter.
• It is possible to reverse the counting direction ratios from pitch 1 to pitch 15
• Model IN with inox metallic parts.
• Colours: orange RAL 2004, black RAL 9005
• Available attachments (see p. 24): anodized aluminium shaft block flange.
1. Positioning push button
2. Lock pin
3. Fixing screw
4. 2 Ø2,5x8 fixing holes 
5.Dust seal
MOUNTING POSITION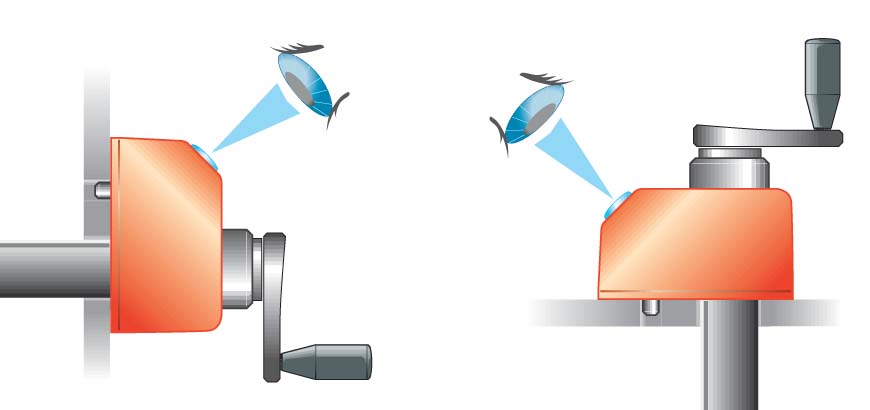 VIEW A                                                                             VIEW B

ASSEMBLING
Introduce the indicator through the hollow shaft and set the lock pin into the ø6 arranged hole. Set the instrument on the inner (zero) value and block the fixing screw.
----------------------------------------------------------------------------------- 
REVERSAL OF THE COUNTING DIRECTION

It is possible to reverse the counting direction from pitch 1 to pitch 15.

Remove the cover. Move gear 1, and in place of it engage gear 2 with gear 3.
With the shaft block flange on the OP2, OP3, OP6, OP7, OP5, OP9 indicator as a compact unity, we obtain a safe blocking of the drive shaft. Block component in aluminium:
• bore diameter ø8, ø10 and ø12 for OP2
• bore diameter ø14 mm and ø10 mm for OP3
• bore ø20 mm and ø14 mm for OP6 and OP7
• bore ø25mm for OP6F25, OP7F25
• bore ø20mm for OP5
• bore ø20, ø25mm for OP9
Other holes with a reducing bush. Handle in position a or b. Available with stainless steel flange in model FL-B OP3, bore ø14.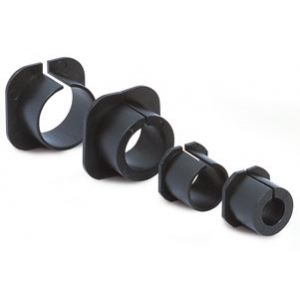 Reducing bushes for shaft block flange (technopolymer).
Technopolymer bushes.
---
Richiedi l'accesso
PITCH
INDICATION AFTER 1 REV.
MAXIMUM SPEED rpm
mm
mm
inches
mm
inches

0,1

0000 1

600

0,2

0000 2

600

0,4

0000 4

600

0,5

0000 5

600

0,8

0000 8

00 031

600

200

1

0001 0

00 039

500

200

1,5

0001 5

500

2

0002 0

00 078

400

100

2,5

0002 5

00 098

400

100

3

0003 0

000 11

200

600

4

0000 4

200

5

0005 0

000 19

200

400

6

0006 0

200

7,5

0007 5

100

8

0008 0

100

10

0010 0

100

12

0012 0

60

15

0015 0

60