EP7
Electronic hollow shaft position indicator, battery supplied
The EP7 electronic indicator, which is supplied with an internal battery and includes in the same case the position sensor and the display unit, measures linear or angular movements:it is compact, easy to install, and applicable to many types of industrial machinery (packaging, woodworking, aluminium, coil etc).
The display has 5 digits and sign with range from -99999 to 99999 and the 7,5mm-high-digits allow excellent readability also from a distance. With the 3 front buttons it is possible to program:

• the value shown on the display for every turn of the hollow shaft 
• measurement direction
• reference reset/preset
• absolute/relative reference
• mm/inches conversion and display in degrees. 

There are also 3 distinct origins for the correction of the reference when using different tools and the offset function for the compensation of tool wear. On the display all activated functions are shown by a symbol.
The electronic section is protected inside an elegant and robust case made of self-extinguishing and shock-proof plastic material. The drive shaft is made of stainless steel.
The power supply is internal with a ½ AA 3,6V battery which has a four-year-life. The low battery level icon is shown when it is necessary to replace the battery, which is very easy and the reference is maintained when the shaft remains stationary. Die
                  PROGRAMMABLE INDICATOR "EP7"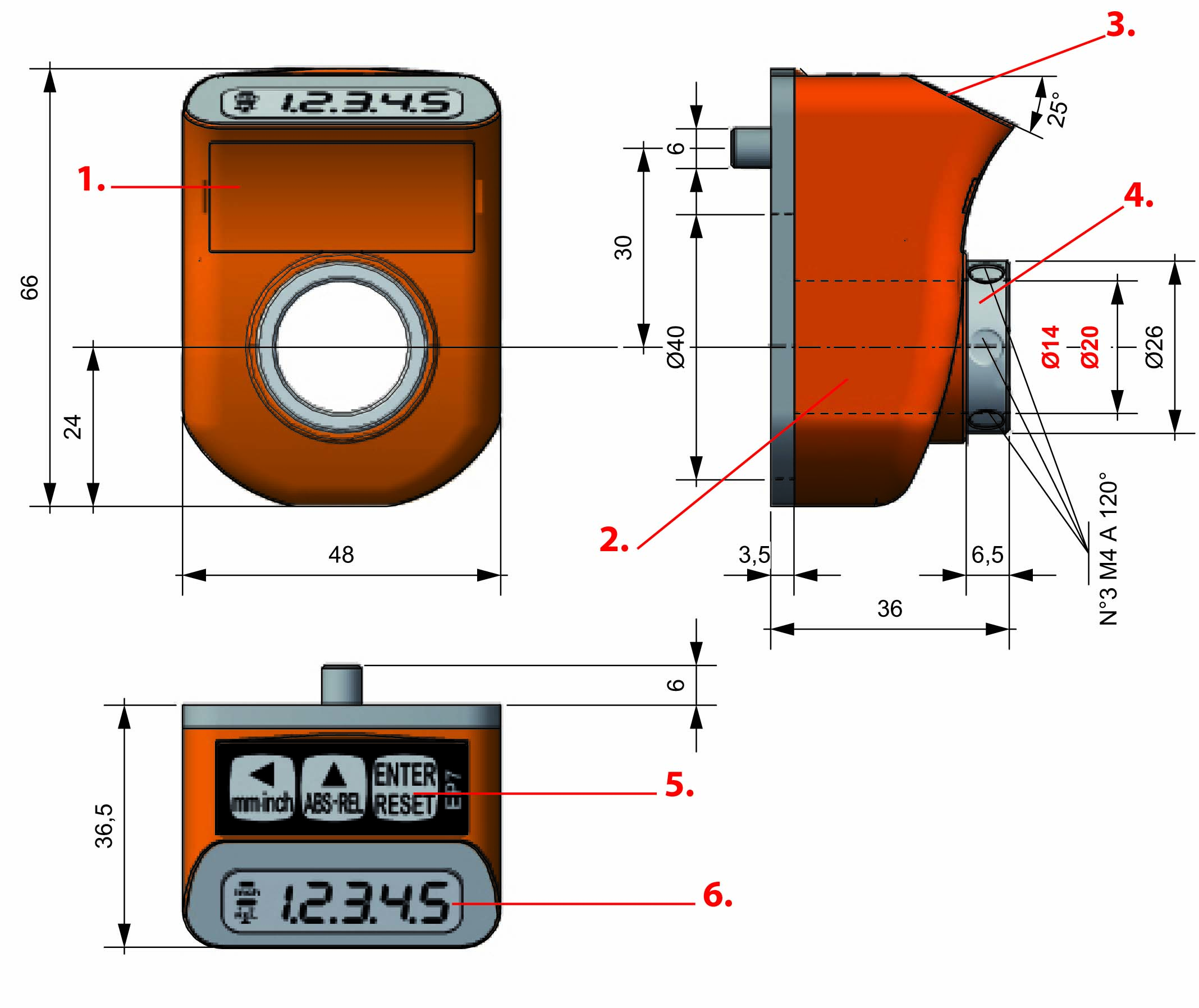 1. Battery compartment
2. Embedding Ø40x3,5
3. Inclined display 25°
4. Stainless steel hollow shaft
5. Keypad
6. Digit height 7,5mm

            SHAFT BLOCK FLANGE "FLB-EP7 F14/F20"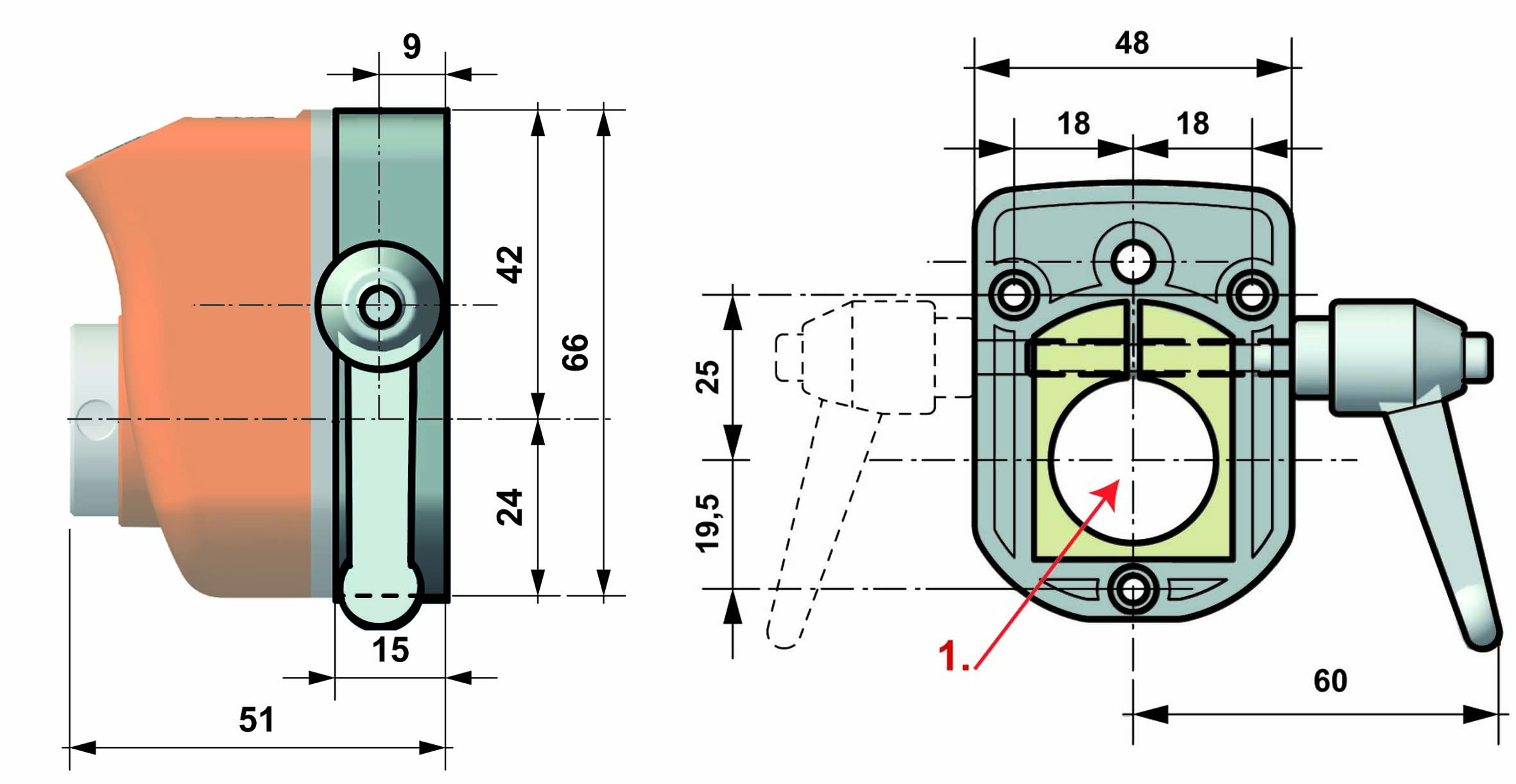 1. Ø14 or Ø20

                       SPACER FLANGE "FL-EP7"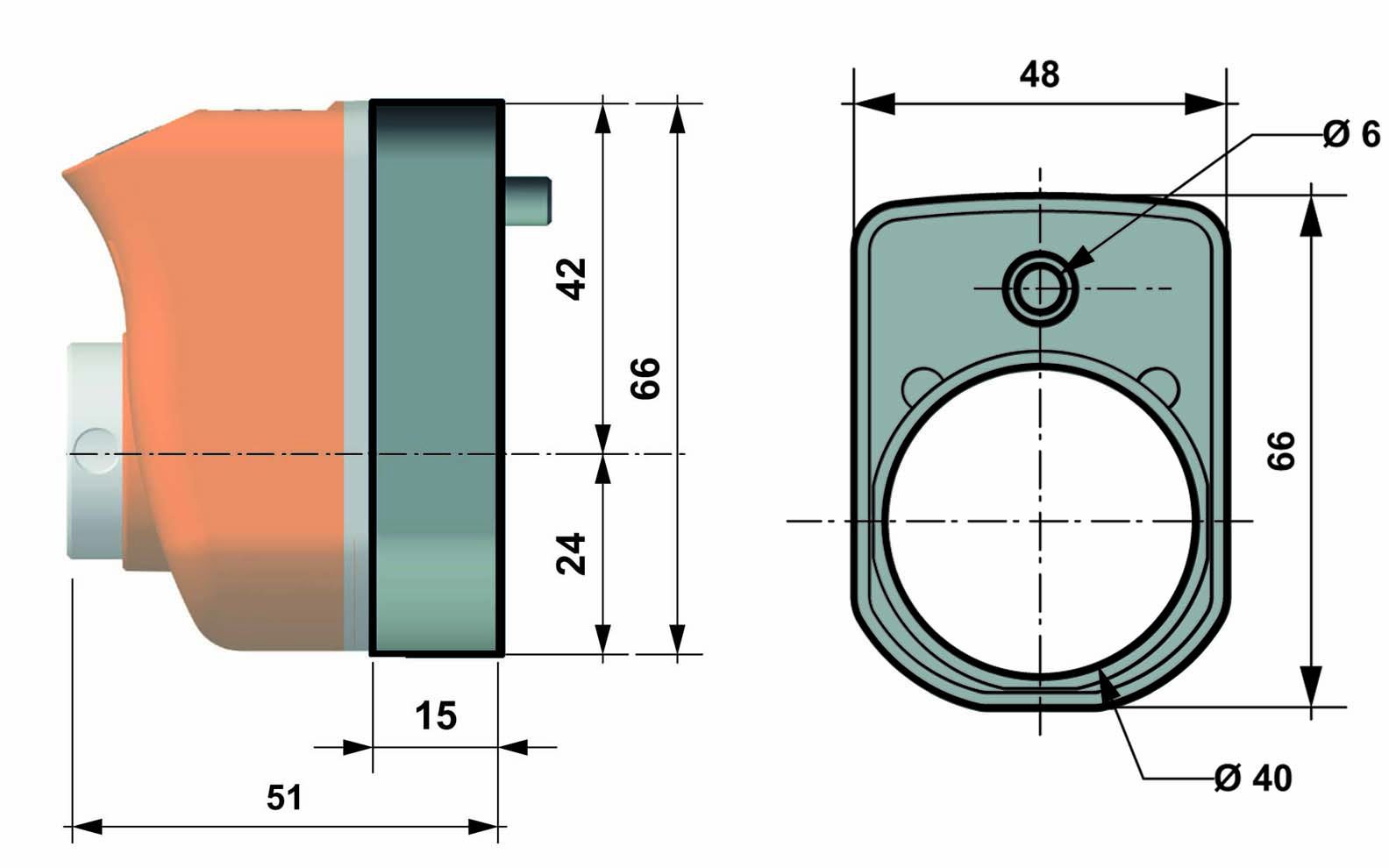 VIEW A                                                   VIEW B
Accuracy
4000 impulses/revolution
Available functions
Reset/preset, absolute/incremental measurement, mm/inch conversion, visualisation in degrees, 3 distinct origins for tool changing
Battery life
4 years of continuous use
Display
LCD height 7,5 mm
Electromagnetic compatibility - EMC
2004/108/EC
Keyboard
3 buttons for programming and functions
Max. revolution speed
400 RPM in continuous - 1000 RPM for a short time
Power supply
battery ½ AA 3,6V (Lithium-thionyl chloride)
Working temperature
0-50°C
Movement knob PM EP7 for indicator EP7
The motion-knob is directly assembled on the shaft of programmable position indicator EP7.
On request stickers (neutral or with Fiama logo), which on the motion-knob' s front shows the increase or decrease of measure wise.
Material: anodized aluminium.
Overall dimensions PM EP7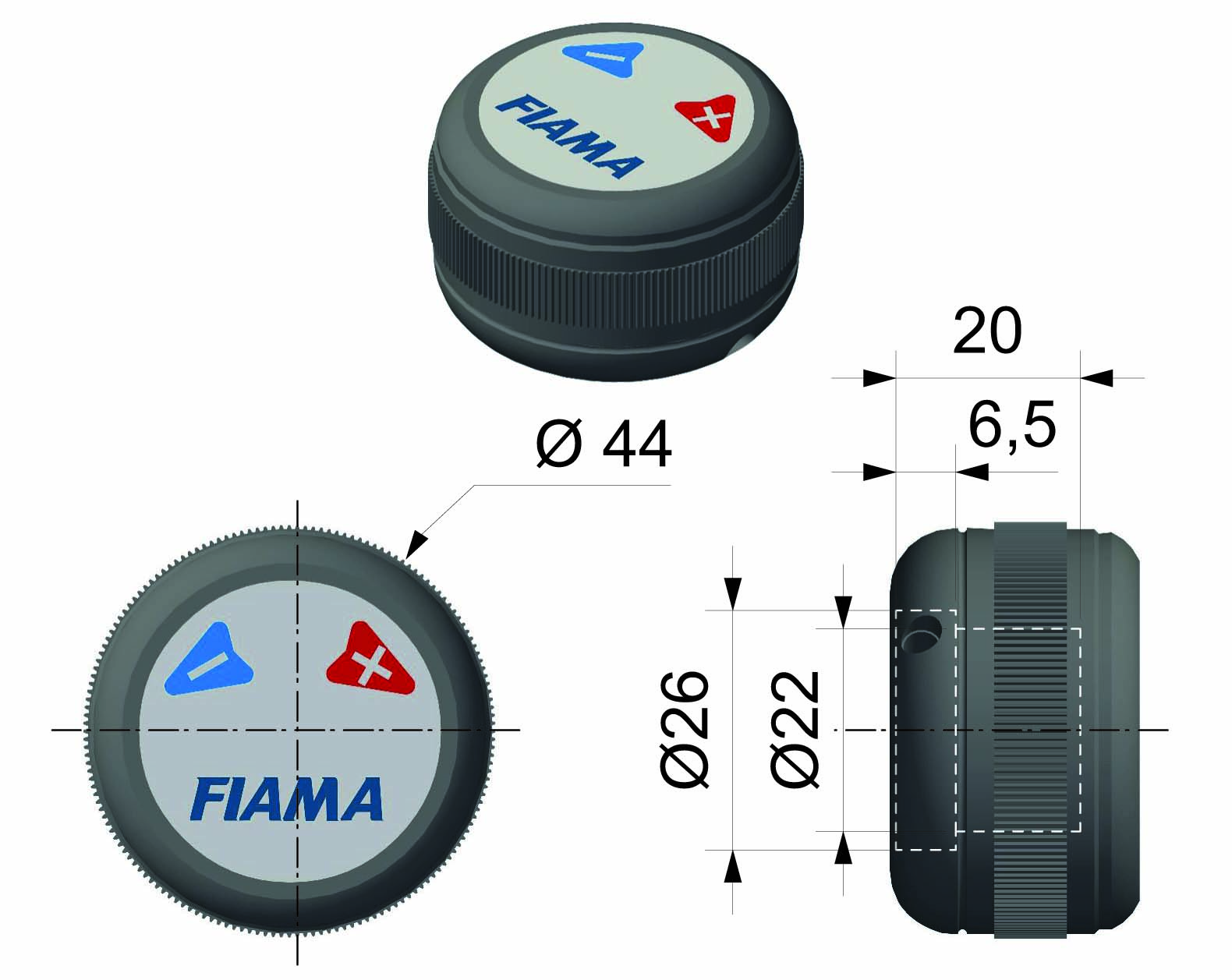 Shaft block flange and spacer 
With the drive shaft block flange on the indicator as a compact unity, we obtain a safe blocking of the drive shaft.
Flange in technopolymer, block component in aluminium.
The spacer flange in shock-proof technopolymer can easily adapt the indicator to different dimensions requirements.
DIMENSIONS

BLOCK FLANGE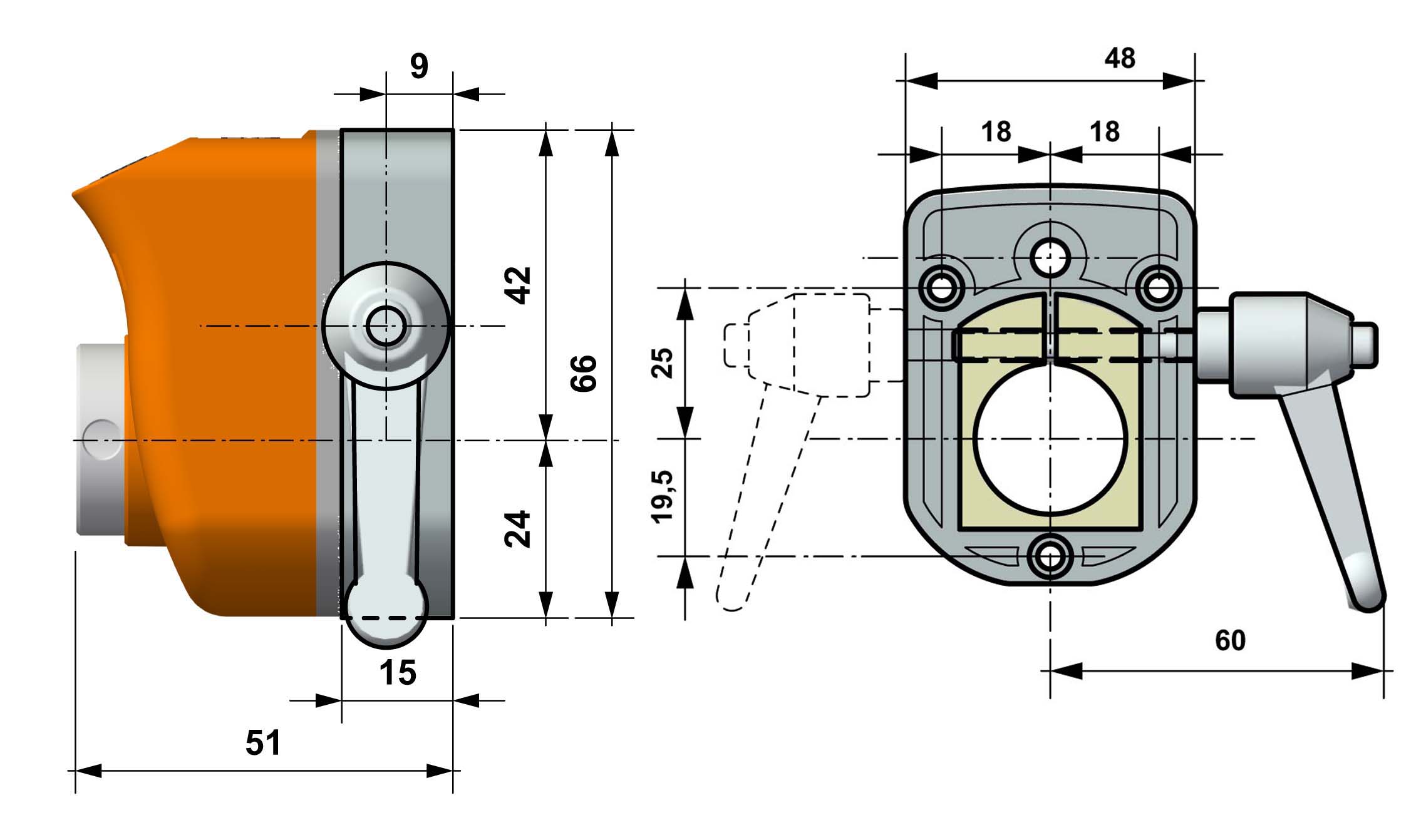 SPACER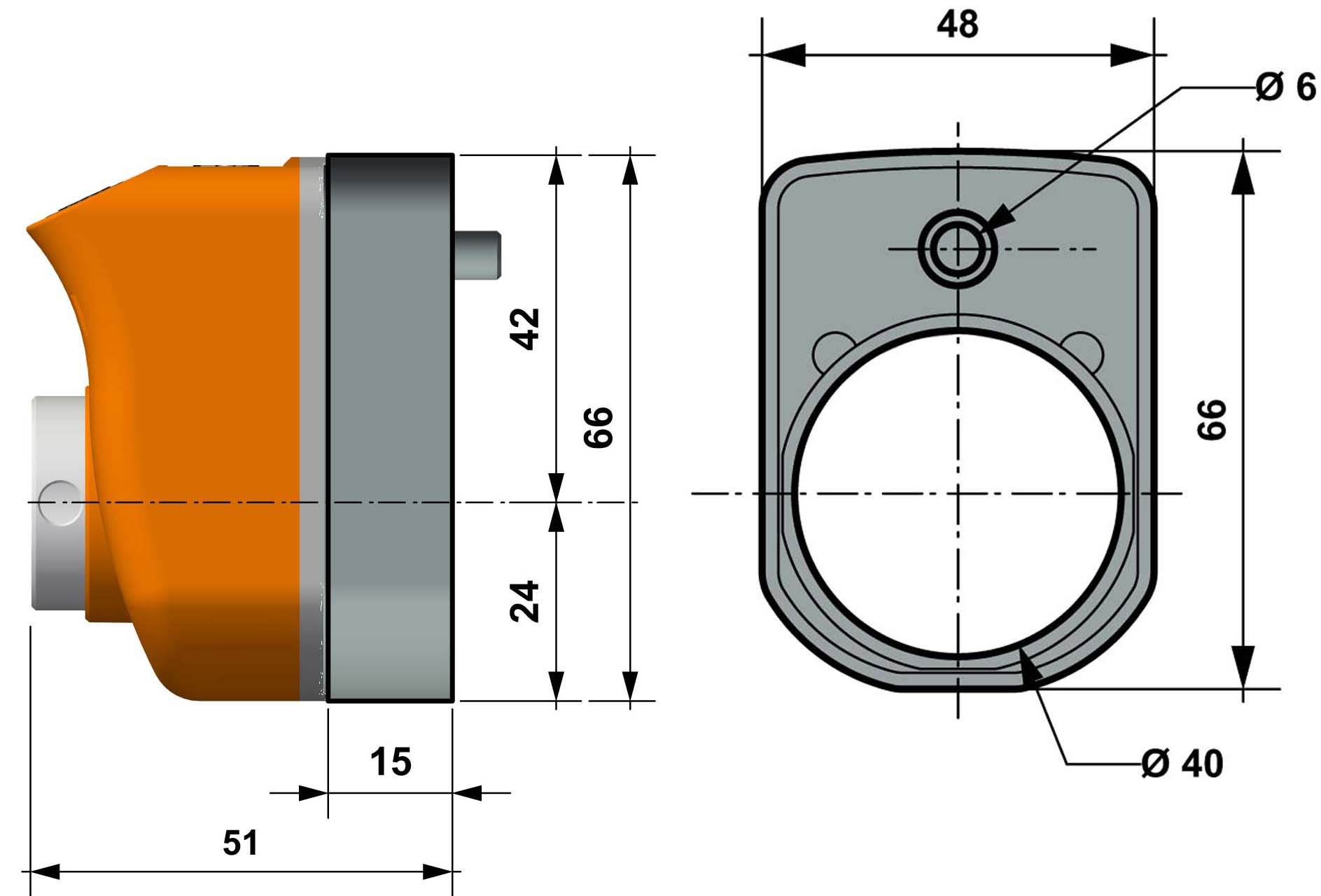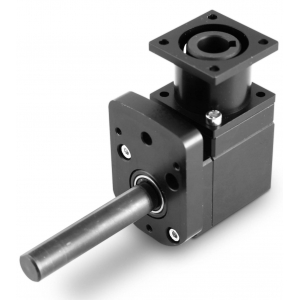 The RINV-OP65 is a flanged angular gearbox that, combined with a mechanical position indicator type "OP7" or an electronic position indicator type "EP7", allows to carry out a visualized adjustment, angular or linear, even if the shaft is in an uncomfortable position.

• Several orientations and connection possibilities. 
• Available with ratios: 1:1 - 1:2 reduction - 2:1 moltiplication. 
• Maximum output torque 8Nm. 
• Aluminium case, black anodized. Steel shafts. Steel bevel gears, case-hardened (Pronox). 
• Movements on ball-bearings, water-proof. 
• Radial load 25 kg - axial load 2,5 kg
• Weight gr. 550.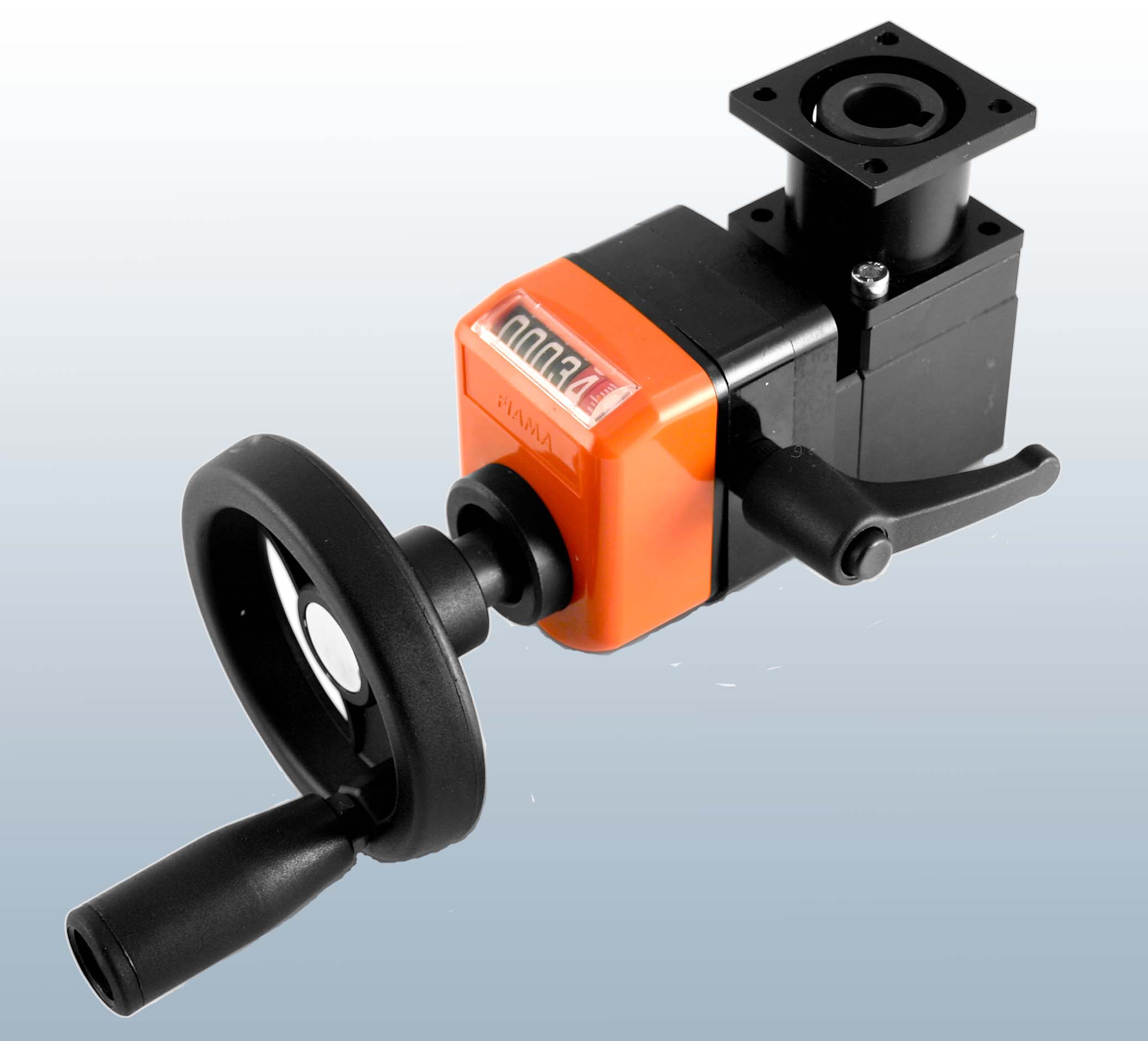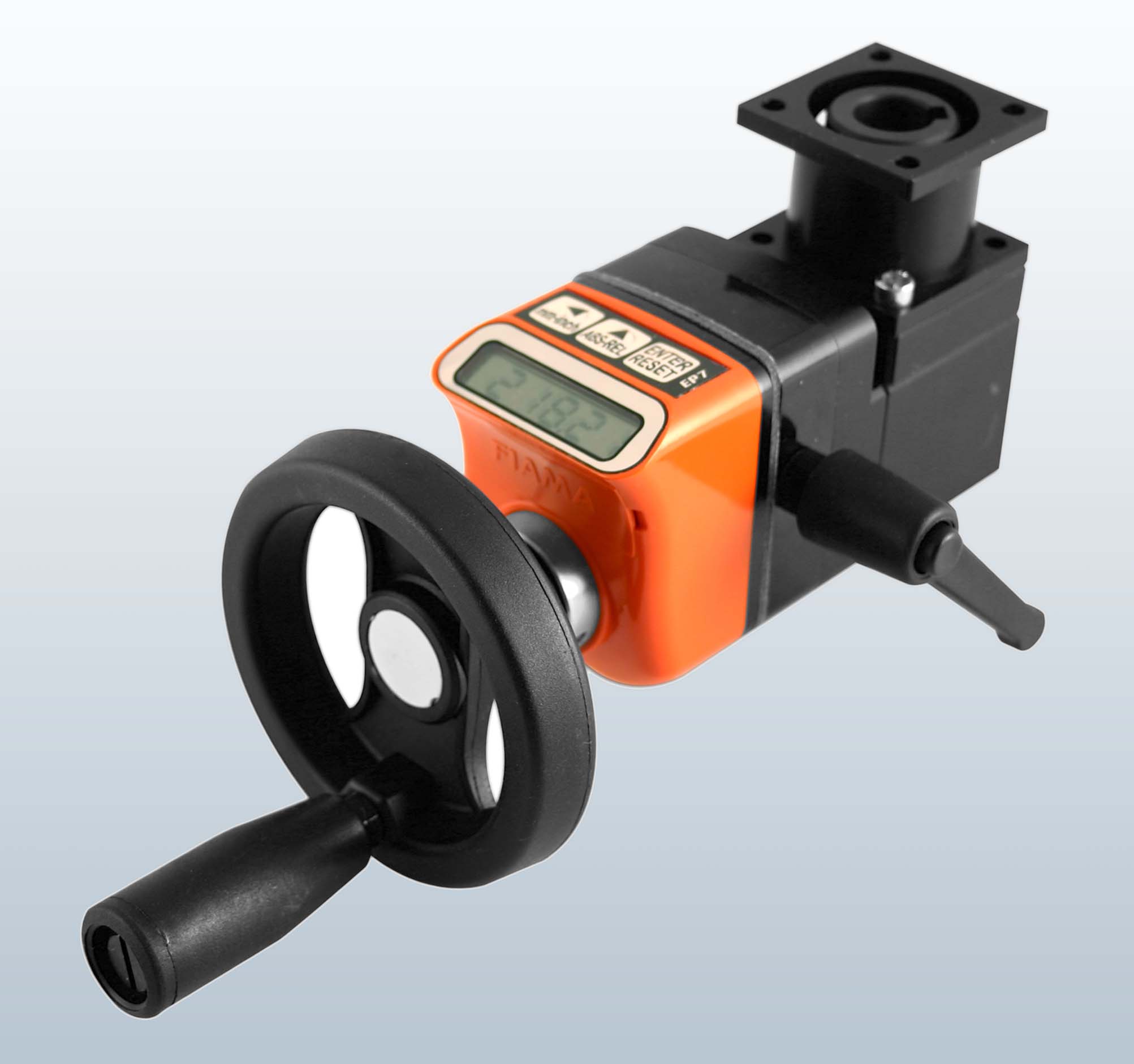 Compact reducer, high-performance, suitable for various industrial applications that require high yields.
In particular for automation and robotics, applicable also to motors.
• Housing made of anodized aluminium
• Shafts made of PR80 steel with Pronox surface hardening treatment, high wear and fatigue resistance plus friction reduction and significant increase in corrosion resistance
• Standard transmission ratios:
   1:1 - 1:2,5 - 1:5 - 1:7,5 - 1:10 - 1:15 - 1:25 - 1:30 
• Several mounting options with protruding / hollow input and output shafts
• Maintenance-free
• Output torque: 10Nm



---
Richiedi l'accesso